Dangerous weather conditions are possible all year in Georgia, and one of the biggest threats in the spring is tornadoes. Five years ago, tornadoes claimed 15 lives in Georgia and hundreds more throughout the Southeast.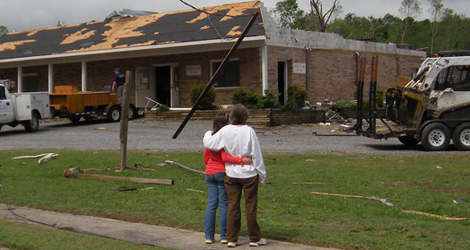 Perhaps more than any other severe weather threat, tornadoes are hard to predict and strike with little or no advance warning.
So how can Georgia families best protect themselves against this threat? A good start is to plan ahead according to Crystal Paulk-Buchanan, Georgia Emergency Management Agency (GEMA) public affairs officer.
"When it comes to preparing for severe weather, the biggest mistake most people make is not preparing at all," Buchanan said. "GEMA recommends simple, but crucial steps outlined in the Ready Georgia app and website to assist in developing a communication plan that help families better respond to emergencies, whether together at home or separated by work or school."
Family safety starts with a good plan, but it is also important to know when to put that plan into action. Consistent and repetitious communication can strengthen the plan and increase awareness for all.
"Weather conditions often change drastically and quickly," said Eric Jens, Georgia Department of Public Health (DPH) risk communicator. "It is especially important in the spring months to pay close attention to weather forecasts and talk with family members about their plan of action prior to the onset of severe weather."
Beyond having a communications and safety plan in place, GEMA encourages Georgians to be aware of their surroundings when facing severe weather. Emergency alerts placed throughout communities, such as tornado sirens, provide warnings that it's time to find shelter and prepare for a forthcoming storm.
"The tornado sirens you see around your city are only to warn people who are outside and away from their televisions and radios," said Bruce Jeffries, DPH deputy director of Health Protection. "If you are outside and hear the siren with no safe structures nearby, recommendations are to lay low to the ground and as far away from trees and other large objects as possible."
"For your home, make sure you have a weather radio that will alert you for severe weather in your area and make sure it is either solar or wind-up powered, as well as battery powered, in case your electricity goes off," he continued.
Jeffries also reminds residents that their smartphone can be a valuable tool in preparing for and responding to tornadic activity. This is because they are mobile and continue to function after power outages occur.
There are several factors to consider when planning to seek shelter as tornadoes approach. If possible, get to the lowest level of a secure structure. Avoid windows and select interior locations when available.
The National Weather System reports mobile homes and highway overpasses are not safe sites because they offer little or no protection against the force of most tornadoes and the risk of additional injury-causing debris is higher than alternative sites.
To learn more about preparing for tornadoes, and to download the Ready Georgia mobile application, visit www.ready.ga.gov.