The Burke County School District recently joined the growing list of Georgia school districts that are tobacco-free. It was the efforts of the students themselves who presented the 100% Tobacco-Free School model policy to the members of the board of education and won their approval.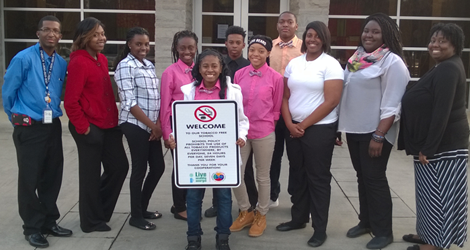 The Georgia Department of Public Health's (DPH) Georgia Tobacco Use and Prevention Program (GTUPP) congratulates these students and local partners for showing leadership to stop tobacco-use among students, staff, administrators and school visitors.
Sadie Stockton is DPH's chronic disease prevention program coordinator in the East Central Public Health District in the Augusta area. Stockton worked with the students to get them ready for the presentation to the board of education.
"Students were extremely informed about the importance of a tobacco-free campus and well prepared to present to the Burke County Board of Education," said Stockton. "They were knowledgeable about the dangers of exposure to secondhand smoke and the importance of adopting the 100% Tobacco-Free School policy. Burke County should be very proud of these students as the Board of Education is supporting cessation and encouraging youth to eliminate use of tobacco products."   
With the addition of Burke County, 108 of 181 Georgia school districts are now tobacco-free. Additionally, the total number of Georgia youth protected from the dangers of tobacco use and exposure to secondhand smoke is 1,350,616.
"The TFS model policy provides the infrastructure to reduce youth initiation and reduce secondhand smoke exposure among students, faculty members and school visitors," said Kenneth Ray, MPH, deputy director of the Office of Tobacco, Policy, System and Environmental Change. "With students getting approval from the Burke County School District's board, we are reducing the number of Georgia youth who smoke into adulthood."
Under the TFS model policy, students, staff or visitors are not permitted to use tobacco products, including electronic nicotine delivery systems (ENDS) such as electronic cigarettes, at any location involving Burke County schools including:
Buildings, facilities or vehicles owned, leased, rented or chartered by Burke County Schools;
Any school grounds and property, including athletic fields and parking lots owned, leased, rented or chartered by Burke County Schools; and
School-sponsored or school-related events on campus or off-campus.
School districts with tobacco-free policies are eligible to receive technical assistance in educating students, staff and community members about the newly adopted policy. To sustain and further promote the policy, GTUPP is working with school leaders to provide TFS collateral to Burke County Schools.
School districts are also encouraged to promote and share information about the Georgia Smoke-Free Air Act and the Georgia Tobacco Quit Line (GTQL), a free support service for those ready to quit tobacco.
Through the GTQL, Georgia youth and adult smokers, 13 years and older, can receive free cessation counseling and support services for quitting tobacco by calling 877-270-STOP (7867). Nicotine replacement therapy (NRT) is offered in the form of patches or gum to all Georgians aged 18 years and older, regardless of health care insurance status. Georgians who are Medicaid enrollees are also offered NRT.
To learn how students can actively get involved in stopping tobacco-use in their school district and to become informed about DPH's efforts to help schools become 100% tobacco-free, visit the GTUPP online at dph.georgia.gov/tobacco.