There's really nothing that can prepare you for being a new mother. Just ask Bethany Shantz. The energetic, astute businesswoman and owner of Gigi's Cupcakes in Savannah quickly realized that taking care of premature, newborn twins takes a completely different kind of savvy.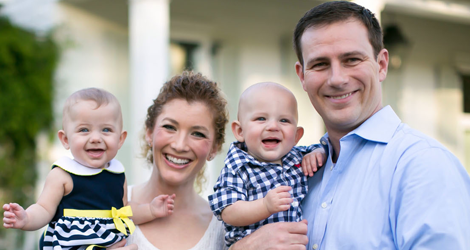 "We didn't have a clue," she said with a laugh. "I had no idea what their schedule should be – when they should be eating or sleeping. I had at least 10 books on the subject, but nothing prepared me. All I could think was, 'I don't know how to be a mom!'"
Initially, Bethany turned down services offered through Children 1st, a state-funded program created by the Georgia Department of Public Health (DPH) to promote the healthy development of young children, because she didn't think she would need extra assistance or guidance with her babies. It didn't take long for her to discover otherwise, however, and after a couple of months at home with newborns Weston and Taylor Anne, Bethany picked up the phone.
 "I immediately called Sarah and said, 'Please come save me!'"
"Sarah" is Sarah Harper, R.N., a nurse specialist with Children 1st in the Coastal Health District. Sarah's role in the Children 1st program is to complete home visits and developmental screenings on children, educate parents on a wide variety of pediatric topics, link families to public health and community resources, and partner with local hospitals to ensure that children at high risk for developmental delay are identified and offered services upon discharge. Because Children 1st doesn't require a referral from a health care provider or hospital, Bethany was able to reach out to Sarah directly for services.
"She was unbelievably sweet," said Bethany. "On her first visit she checked their developmental skills – motor skills, hearing, vision, everything – and was able to tell us how they were tracking. As a parent that makes you feel so good because of course you want to make sure you're doing the right thing and going about things the right way."
Sarah was also able to help get the babies some specialized care that they needed as a result of having severe protein allergies and acid reflux, and she also helped coordinate physical therapy for Weston who had torticollis which is the twisting of the neck muscles.
"Sarah was such a blessing and a Godsend," said Bethany. "I would not have survived the first year without her."
The feeling is very much mutual for Sarah when it comes to working with families like the Shantzes.
"I honestly feel so blessed to have the opportunity to work with families in this program," said Sarah. "I get to experience miracles every day – from watching babies that were on the brink of viability grow and thrive to seeing little ones who are struggling succeed – just by providing parents with the education and tools necessary to make their goals a reality."
Just a few years before Weston and Taylor Anne were born, Bethany wasn't sure being a mom would ever become her reality. In 2012, she was diagnosed with chronic myeloid leukemia (CML) which is a type of cancer of certain blood cells found in the bone marrow. That startling emotional blow was followed by the news that she had been pregnant and lost the baby and would not be able to carry a baby to term.
When Bethany's best friend offered to act as a surrogate, Bethany agreed and realized she had a very small window to try and realize a very big dream. Accepting the risk that her cancer might recur, Bethany stopped taking her chemotherapy medicine for 17 days so her eggs could be harvested. Of the 12 eggs harvested, two had not been affected by the chemotherapy medication.
Thirty-two weeks and six days after conception, Weston and Taylor Anne made their grand entrance at 4 pounds, 5 ounces and 4 pounds, 2 ounces, respectively.
"They were such little miracle babies," said Bethany.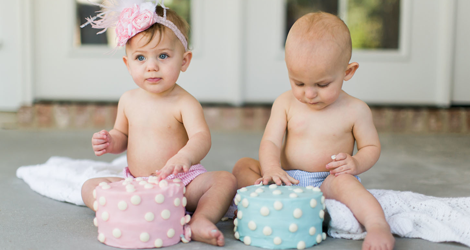 Today, those miracle babies are thriving and just recently celebrated their first birthday. Although Sarah initially paid regular visits to the Shantz family for several months, she now checks up on them at six month intervals to ensure they stay on track and meet all their developmental milestones. And the Shantzes know that anytime they have a question for Sarah, she'll be there with an answer.
"It just gives us such peace of mind to know that we have someone like Sarah that we can call," said Bethany. "We feel so loved and special and cared for when she calls to check on us."
The services provided through Children 1st can be accessed at no cost. If it is determined that a child is in need of other services, then referrals can be made to programs such as Babies Can't Wait (Georgia's early Intervention program serving children with significant developmental delays or children who may be at risk for delays due to a diagnosed medical condition); Children's Medical Services (medical care for children from birth to age 21 who have disabling conditions or chronic diseases); or the Early Hearing Detection and Intervention Program (a comprehensive system of universal newborn hearing screening and assure early detection and intervention for hard of hearing and deaf children).
"Our program is especially useful for families with premature infants who are at high risk for developmental delays and who have special needs," said Sarah. "In the case of the Shantzes, Mom and Dad have done a wonderful job and they have two beautiful little ones to show for all their hard work."
Those little miracle babies continue to bring joy to Bethany and her husband, Chris.
"I'm just thankful every day to be alive and to have my babies," said Bethany.
For more information on Children 1st and associated programs in the Coastal Health District, please call 912-644-5805 or go to www.gachd.org and click on Children's Special Services under Quick Links.
Photo courtesy of Teresa Earnest Photography.