Kesia Cobb, M.B.A., business operations director in the Division of Health Protection at the Georgia Department of Public Health (DPH), was recently diagnosed with breast cancer and is now facing one of the toughest battles of her life.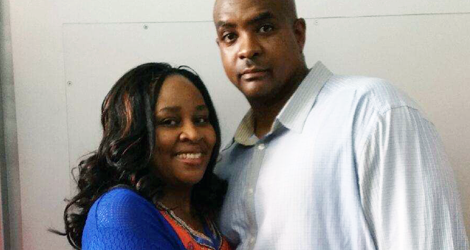 Cobb discovered a lump in her breast during her monthly self-exam at home.
"I would say that my monthly self-breast exam saved my life," said Cobb. "If I had not noticed a change in my breast, I would not have caught my breast cancer in the early stage. Prior to discovering the lump, I had been scheduling my annual health screening and mammograms. Knowing your own breasts and what is normal for you, and having your scheduled mammogram is essential for all women."
Once diagnosed, Cobb worked with her doctors to put together a rigorous treatment plan which includes 16 weeks of chemotherapy. While undergoing treatment, she is maintaining a full work schedule.
The support of her direct supervisor, J. Patrick O'Neal, M.D., director of Health Protection, has been invaluable in helping her manage her work schedule with her immediate health needs.
"I am truly blessed to have Dr. O' Neal as a supervisor who understands the importance of keeping some normalcy in your life when faced with illness," said Cobb. "I am working from home and that has been very therapeutic. I am able to fulfill my duties and maintain focus on my work instead of allowing cancer to consume my thoughts."
Dr. O'Neal has been both a supervisor and friend to Cobb, putting his full support behind her fight to reclaim her health.
"A cancer diagnosis affects your physical, mental and emotional state-of-being," said Dr. O'Neal. "From the first call from her doctor to tell her that she had breast cancer, Kesia has been forthright in setting the course for battling this disease. She has been mentally positive which is extremely important when to responding to treatment. Kesia is a fighter and a survivor and I am grateful to have her on my staff."
Cobb is fortunate to have a strong support system at home comprised of her husband of 19 years, four children, ages 14 – 24, and 5-year-old granddaughter. Her support also extends to the professional colleagues she's gained within state government over the course of her 16-year career with DPH.
Cobb's supporters will lace up on Mother's Day weekend for the Komen Greater Atlanta Race for the Cure on Saturday, May 7 at Lenox Square. They will be running and walking in her honor on a team they call Team Kesia Cobb.
Through DPH's Breast and Cervical Cancer Program (BCCP), DPH provides breast and cervical cancer screening, diagnostic services and referral to treatment as medically indicated to low-income, uninsured and underinsured women residing in Georgia between the ages of 40-64 for breast cancer and 21-64 for cervical cancer. The BCCP also works with health care providers, health systems and the public to promote screening and provide information on screening recommendations.
"Kesia did everything right. Breast cancer is highly treatable if found early," said Jean O'Connor, JD, DrPH, Chronic Disease Prevention director at DPH. "We are pleased that BCCP now provides breast and cervical cancer screening and diagnostic services in Georgia for the underinsured women, not just the uninsured. So if a woman cannot meet her deductible or co-payment, but believes she needs to be screened, we want her to contact BCCP to see how we may assist her."
To join Team Kesia Cobb for the upcoming Komen Greater Atlanta Race for the Cure, visit www.info-komen.or/goto/teamkesiacobb. You can also email DPH employees Debra Chapman or Kathy Robinson for assistance.