What would it take to make you move your public health career forward? Would the ability to work and have a steady paycheck, while expanding your education level, motivate you to pursue a career that could afford you more? If not, what about the chance to combine your passion with the career you've always dreamed of? For many, the Georgia Department of Public Health (DPH) Special Supplemental Nutrition Program for Women, Infants, and Children (WIC) Dietetic Internship Program offers both and much more.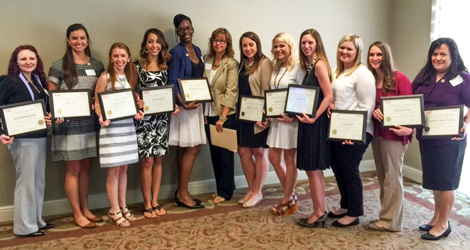 The DPH WIC Dietetic Internship Program aims to improve health outcomes of Georgians through the promotion of quality nutrition care practice by assisting qualified DPH employees in their quest to become registered dietitians (RD). Millicent Jones, RD, and Jamie Jones, RD, LD, CLD, no relation, are two recent graduates of the 2014-2015 dietetic internship program who have benefitted from the program.
As a child, Millicent Jones dreamed of becoming a nurse or a chef, but it was not until she was in college that she learned how to combine both to create a recipe for the perfect career.
"I loved the clinical setting, but also loved being in the kitchen and exploring new foods," said Jones.  "When I was in college, I took an introduction to nutrition class that opened my eyes to the world of dietetics. I felt becoming a registered dietician was the perfect combination of my two passions."
Walton County Health Department Clinical Nutritionist, Jamie Jones' story is similar as her interest in nutrition also began at an early age.
"In high school I felt like I wanted to learn about nutrition; having multiple family members that were obese and overweight," said Jones. "Originally I wanted to go in to sports nutrition to work with athletes. Since working in WIC, my passion has changed. Now I'm extremely passionate about breastfeeding, women having a healthy start with pregnancy and having a healthier children population in the future."
Since 1992, approximately 240 Georgia WIC professionals have completed the supervised practice required by the program. According to Rhonda Tankersley, MPH, RD, LD, dietetic internship administrator, interns complete 504 supervised practice hours in community health and public health nutrition through planned experiences WIC, Babies Can't Wait, Children 1st, and in community organizations such as Open Hands, Atlanta Regional Commission, Head Start and local community food banks.
Another 504 hours are spent in clinical care which includes outpatient diabetes clinics, inpatient acute care in hospitals and long term care in nursing homes. The remaining 192 hours are spent in school food service with county or city school systems.
 "Our interns are all full-time WIC  district or county level employees who, for a year, work as interns three days per week and work in their respective positions the other two days, said Tankersley. "At the completion of the program, they return to their jobs full-time and are most often promoted to clinical or management positions in WIC at the county and/district levels."
Three months after completing her internship, Millicent Jones was promoted to the clinical nutrition supervisor for the Lawrenceville WIC Program. When asked if the internship was beneficial Jones responded, "Absolutely, this gave me an opportunity to see so many different fields of nutrition that I never had a chance to interact with while working with WIC. I also had opportunity to see how these different fields of nutrition worked with WIC. I was also able to educate other RDs about WIC and what we do."
The 2016-2017 DPH WIC Dietetic Internship Program runs from August to August. To learn more about the internship program, visit www.dph.georgia.gov/dietetic-internship.  Learn more about WIC by visiting www.wic.ga.gov.