Fulton County Schools' Nutrition Program recently hosted its inaugural Student Choice Food Challenge.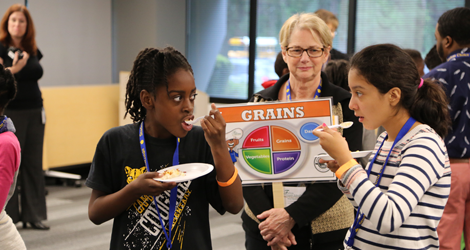 The goal of the challenge was for students to taste and vote for potential new school meal recipes, giving them a voice in selecting healthy food options to add to their school breakfast and lunch menus.
"The School Nutrition Program invited feedback from elementary, middle and high school students so that all levels would be represented across the geographic area of Fulton County Schools," said Ruth Taylor, MS, RDN, LD, area supervisor Fulton County Schools Nutrition Program.
There were a total of ten savory recipes available for testing, including chicken street tacos, butternut squash ravioli and a falafel salad. Each recipe had to meet the nutrient standards according to the 2010 Healthy Hunger-Free Kids Act outlined by the United States Department of Agriculture (USDA).
This national nutrition benchmark requires school meals to meet a weekly average for age-appropriate calorie ranges, include less than 10 percent of calories from saturated fat, low sodium, zero grams of trans fat, and all grains have to be whole grain-rich.
"District Chef William Reggie Sloan and Registered Dietitian Holly Thaw both reviewed the recipes offered at the challenge to ensure nutrient requirements could be met if incorporated into school menus," said Taylor.
Represented at the challenge by its 4th graders, Campbell Elementary School is a strong supporter of good nutrition and physical activity for youth. As a Power Up for 30 school, Campbell Elementary commits to incorporating an additional 30 minutes of movement throughout the school day.
"It's great to see schools like Campbell Elementary embracing the many pillars of Georgia Shape such as healthy eating and physical activity," said Emily Anne Vall, Ph.D., Georgia Shape project manager. "Their participation in Power Up for 30 and the Student Choice Food Challenge demonstrates how schools can successfully encourage students to get excited about health and take a leadership role in their well-being."
During the Student Choice Food Challenge, students tried each recipe and rated feedback on iPad stations throughout the room. Once the final results are analyzed in the coming weeks, Fulton County's nutrition team will determine what recipes will be incorporated into next year's lunch and breakfast menus.
"The Fulton County School Nutrition Program expects the Food Challenge to be an annual event to collect student feedback, in addition to continued focus groups and taste tests that are currently conducted at schools across the district," said Taylor.
For more information on the Fulton County School Nutrition Program and the Student Choice Food Challenge, visit www.fcsnutrition.com. To learn more about Georgia Shape, or to pledge to be a Power Up for 30 school, visit www.GeorgiaShape.org.