The Georgia Department of Public Health (DPH) is joining Mitchell County Schools in celebrating the success of its effort to become 100% tobacco-free.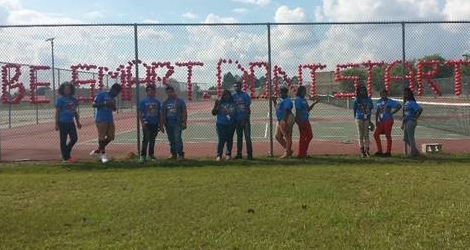 The tobacco-free school policy implementation process was led by a determined group of students from Mitchell County High School who call themselves the Eagles Squad. Their motto is "Eagles prey on tobacco."
Eagle Squad members efforts to implement the policy included a presentation to Mitchell County's Board of Commissioners to discuss the benefits of implementing a tobacco-free policy, as well as request the policy be included in official student and employee handbooks once approved for implementation.
To extend the reach of the messages shared with board members, Eagles Squad members also coordinated school promotions and a video to illustrate the health impacts of tobacco use and secondhand smoke exposure to their high school peers.
"It's important to have a tobacco-free school to keep all teens safe from the harms of tobacco," said Alexis Silas, a member of the Eagles Squad.
With the addition of Mitchell County, there are now 109 tobacco-free school districts in Georgia. The school districts that have implemented the 100% tobacco-free school policy are helping protect more than 1.3 million youth across Georgia from tobacco use and exposure to the dangers of secondhand smoke.
"A tobacco-free policy not only keeps the students safe from the harms of tobacco, but it creates a safe and healthy environment for everyone, including faculty, staff and visitors," said Ebonee Kirkwood, tobacco prevention coordinator, DPH's Southwest Public Health District. "Adopting a tobacco-free school policy is a great step toward creating a healthier future for our youth and changing social norms."
According to DPH data, in 2013, approximately 27,000 (8%) middle school students and 79,000 (19%) high school students in Georgia used some form of tobacco. Additional survey data shows that 17.8 percent of students attempted tobacco use in the form of electronic cigarettes, or e-cigs.
School districts who adopt the tobacco-free policy are also encouraged to promote and share information about the Georgia Smoke-Free Air Act and the Georgia Tobacco Quit Line (GTQL), a free support service for those ready to quit tobacco. They also receive support for placing signage throughout their facilities to inform students, faculty and visitors about their commitment to a healthy, tobacco-free educational environment.
Through the GTQL, Georgia youth and adult smokers, 13 years and older, can receive free cessation counseling and support services for quitting tobacco by calling 877-270-STOP (7867). Nicotine replacement therapy (NRT) is offered in the form of patches or gum to all Georgians aged 18 years and older, regardless of health care insurance status. Georgians who are Medicaid enrollees are also offered NRT.
To learn how students can participate in curbing tobacco use in their respective school districts and learn more about the 100% tobacco-free schools policy, visit GTUPP online at dph.georgia.gov/tobacco.