The Georgia Department of Public Health (DPH) along with numerous other state agencies, witnessed a flurry of activity earlier this month as Hurricane Lisa brought severe weather devastation to a large portion of the state. The good news is that Hurricane Lisa was not real.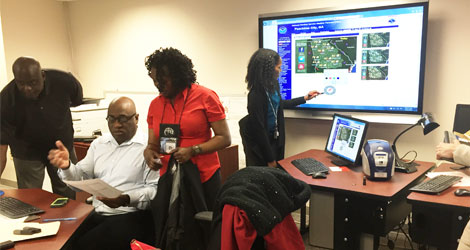 Instead, it was a simulated storm created to test response plans and actions for the annual Georgia Emergency Management and Homeland Security Agency (GEMHSA) exercise known as HURREX.  
HURREX is a full-scale exercise, meaning that actual phone calls, resource transfers and physical activities take place to prepare emergency preparedness and public health professionals for real-life severe weather situations. 
The simulation took place the week of May 15, which was National Hurricane Preparedness Week. Hurricane season in Georgia officially begins on June 1. 
"Thankfully, hurricanes don't strike Georgia very often, so the opportunity to practice how we will respond, think through the challenges and issues that may result from a hurricane's effects, and work on improving communication with our partners is critical," said Scott Minarcine, PHEP director at DPH.  
Minarcine also stresses the importance of routine diligence when it comes to hurricane preparedness. 
"Because each disaster is a little different, and the environment in which we live and work is constantly changing, a plan is never really final," he said. "The plans need to be updated to reflect new information, lessons learned from events here in Georgia and elsewhere, and to incorporate new laws, regulations, policies and procedures for how government functions. Once we have revised a plan, we need to test it out. That is where preparedness exercises come in." 
DPH Health Protection Deputy Director Bruce Jeffries says there are a number of reasons why such exercises and planning are important. 
"Due to the constant turnover and the low hurricane response activity since 2009, regular training is valuable in order to provide our staff a realistic environment to test their Incident Command System skills and participate in a near real environment," he said.  
Jeffries adds that due to limited personnel resources, all members of DPH should be ready to support an emergency response, or possibly be deployed to other areas that may be impacted by hurricanes.
Everyone in Georgia can make their own customized preparations for hurricanes. And it is a good idea for them to do so now according to Eric Jens, DPH risk communicator.
"The positive aspect to hurricanes is often the advance warning that comes as the storms develop and meteorologists track their likely path of destruction, giving Georgians an opportunity to initiate their emergency weather plans," Jens said. "The downside is that hurricanes often change in intensity, alter direction and spawn supplemental storms that can strike less predictable targets."
A good way to get started on building a plan for hurricane season is to log on to the Ready Georgia website or download the Ready Georgia mobile application. Both resources offer tips for creating a safety plan and a Ready Kit that will help keep you and your loves ones safe during a weather emergency. 
Visit www.ready.ga.gov to download the app and learn how to start developing your safety plan today.