The Georgia Department of Public Health (DPH) and the Georgia Department of Community Health (DCH) are working together with the Centers for Disease Control and Prevention (CDC) to improve asthma control.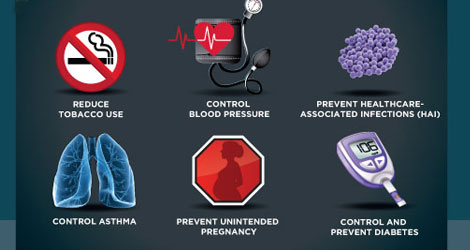 CDC's 6|18 initiative aligns six high-burden health conditions – tobacco use, high blood pressure, healthcare-associated infections, asthma, unintended pregnancy and diabetes – with 18 evidence-based interventions that assist in preventing these diseases while increasing health coverage options, utilization and quality of care for patients, providers and payers.  
The asthma control component of 6|18 recommends four primary interventions: promote evidence-based medical management in accordance with the 2007 National Asthma Education and Prevention program guidelines; promote strategies that improve access and adherence to asthma medications and devices; expand access to intensive self-management education for individuals whose asthma is not well-controlled; and expand access to home visits by licensed professionals to improve self-management education and reduce home asthma triggers for individuals whose asthma is not well-controlled. 
Currently, more than 8.4 percent of Georgia adults have asthma, along with 10.8 percent of children throughout the state. In 2012, there were more than 31,000 emergency room visits due to asthma for Georgia adults, and more than 7,000 hospitalizations.
DPH's Georgia Asthma Control Program (GACP) is facilitating the initiative statewide to encourage increased self-management for uncontrolled asthma among adults and children, specifically those between the ages of 0 and 9. 
DCH is working with care management organizations to ensure their network providers are appropriately following the national asthma management recommendations, as well as improving access and adherence to asthma medications and devices. 
"Based on the first intervention recommended by the initiative, DCH has promoted the evidence-based guidelines for asthma care and required our care management organizations to audit their providers in order to ensure they are following these guidelines," said Janice M. Carson, M.D., assistant chief for Performance, Quality and Outcomes with DCH. "Each CMO has an asthma disease management program already in place and are currently engaging with their members who have poorly-controlled asthma."  
DCH will also engage with GACP to discuss intensive self-management education as a next step in controlling asthma. Many of these efforts started several years ago through funding GACP secured from CDC as part of a multi-year cooperative agreement aimed at implementing intensive self-management education programs to better control asthma among Georgians of all ages.
"We are proud to have the opportunity to work alongside DCH in advancing the health care options and support services for Georgians whose quality of life is routinely impacted by asthma," said Jean O'Connor, J.D., Ph.D., chronic disease prevention director, DPH. "With direct access to experts at CDC, we'll make positive strides toward our statewide asthma control goals, including decreasing the number of asthma-related hospitalizations and improving self-management strategies among those living with the condition." 
To learn more about CDC's 6|18 initiative or support services available through the Georgia Asthma Control Program at DPH, visit dph.georgia.gov/Asthma.