­­­­­­­­­­­­­­­To help celebrate the close of the 2015-2016 school year, Georgia Shape helped elementary schools across the state gear up for an active summer with a Power Up for Summer celebration.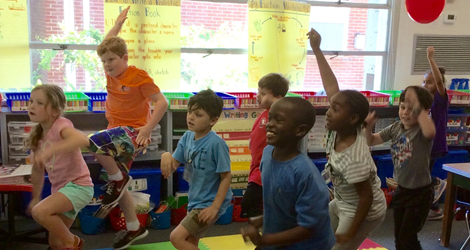 Georgia Shape and HealthMPowers, a technical assistance partner, provided two digital physical activity breaks, also called brain breaks, for teachers to use at their discretion throughout each day for an entire week. Teachers gained access to the brain breaks through an online platform designed to host short-form activity videos students can follow in their classrooms.
The statewide event was a nod to Georgia Shape's Power Up for 30 program, which helps school administrators and teachers implement an additional 30 minutes of physical activity into existing classroom activities.
"We wanted to celebrate the achievements of Georgia's elementary school students while encouraging students and teachers to continue to be active during the summer break," said Emily Anne Vall, Ph.D., Georgia Shape project manager. "Through Power Up for Summer, we were able to demonstrate how daily physical activity is fun and that everyone should look forward to moving all summer with family and friends."
School districts throughout the state participated in the event, with some schools taking the next steps in committing to a more physically active environment by signing the Power Up for 30 pledge. 
Thanks to Power Up for Summer, Georgia Shape added several new schools to the Power Up for 30 program roster. These additions bring the current number of pledged schools in Georgia to 862.
Power Up for 30 centers on research that shows a positive connection between increased physical activity and student attendance, classroom behavior and academic performance. Participating schools learn how to integrate movement into their classrooms in a manner that fits their school's unique environmental needs.
There's still time for schools to pledge to encourage daily physical activity and a healthy lifestyle among their elementary school students.
By signing the Power Up for 30 pledge by July 31, schools will receive free or low-cost resources to increase physical activity before, during and after school, and free training and ongoing support provided by HealthMPowers. Teachers will also receive a $75 stipend for attending either an in-person or virtual training this summer.
To take advantage of this exciting opportunity for elementary schools, visit www.georgiashape.org.