The summer months are time for vacations, camps and visits with family and friends. Although the season is ripe with opportunities to spend more time outdoors and on vacation, it can also present unique challenges for Georgians living with asthma.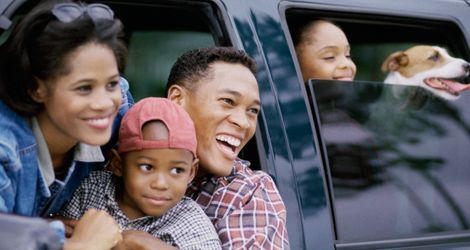 According to 2013 data from the Georgia Asthma Control Program (GACP) at the Georgia Department of Public Health (DPH), over 8 percent of adults, ages 18 and older, suffer from asthma. Also, more than 10 percent of children across the state are living with asthma.
Environmental and behavioral changes during the summer have a significant impact on asthma symptoms and the possibility for experiencing respiratory distress.
Factors such as increased pollen counts, daily changes in air quality and high heat indexes can provoke allergies or other conditions that impact lung health. Also, vacations away from home or changing your daily routine can disrupt your asthma medication schedule.
According to Francesca Lopez, MSPH, AE-C, GACP program manager at DPH, consistency is key when it comes to controlling asthma.
"Maintaining a well-defined asthma management regime is the single-most important action one can take in reducing their asthma symptoms and chances of experiencing respiratory distress," she said. "No matter the occasion – whether a long vacation or summertime weekend get-away – it's crucial to plan ahead to properly care for your lung health or the lung health of a child for whom you are responsible."
Lopez recommends incorporating your asthma care plans into your summertime planning to fully account for your asthma needs while on the road or away from home. Below are several tips GACP recommends to better manage your asthma and enjoy the long summer months.  
Create your asthma action plan. Before you hit the road for your favorite summertime destination, make sure you have an asthma action plan established. This is a written guide created with your doctor that documents how to manage asthma based on your health status. Include details such as what triggers your symptoms; how to avoid those triggers; what medicines to take; and when to seek medical help.
Share your plan. If you are traveling with family members or friends, share your asthma plan. This will prepare fellow travelers for instances when you may require medications or medical attention. Children also require the same preparation. Provide copies of their asthma action plan with anyone caring for them including family members, teachers, child care providers and even sports coaches.
Know your triggers. Before leaving home, research places you'll be spending time to learn about any environmental factors that may impact lung health or cause asthma symptoms. Keep in mind that asthma triggers come from both indoor and outdoor environments. Some common environmental irritants and allergens include tobacco smoke, dust mites, pets, pollen and poor air quality.
Have your medication available and ready. It's important to know what medications you need and always have emergency medications available. Asthma medications help reduce inflammation in the lungs, which can be a lifesaving measure during times of respiratory distress. This is why it's crucial to ensure your medications are easily accessible at all times.
Prepare for extended stays. If you're planning a longer vacation or visit, plan for your medication needs in advance. If necessary, ask your primary care doctor for additional refills or get in touch with a doctor to care for you in the area.
As with any medical condition, always talk with your primary care provider to help you develop an asthma action plan to keep your lungs healthy and strong all summer long.
For more information on GACP or to learn how to start creating your asthma action plan, visit dph.georgia.gov/Asthma.