The Northwest Health District recently held its annual Mini-Mega Meeting with a theme of "Serving and Leading in 3-D: Direction, Determination and Dedication."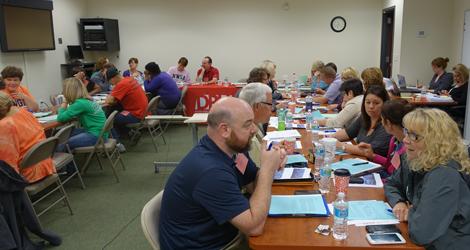 The day's events captured and evaluated the work the district is doing for its local communities, along with celebrating its achievements from the prior year.
"This district day was a culmination of the work we've done, as well as a reflection of  who we are and what we stand for in our district," said Nicholle Harrison, chief learning officer, Northwest Health District.
As a Good to Great champion, Harrison is helping her district bridge the gap between the big picture and the small details that enable them to care for more than 580,000 Georgians across the district's 10 counties.
Her goal for the Mini-Mega Meeting was to have an open conversation among team members to better understand how they can improve service offerings to local community members and ultimately help more people live healthier lives every day.
Harrison is dedicated to ensuring her staff has every resource necessary to do great work without barriers.
"I like to ask our team members, 'What is a barrier for you to be great?'" Harrison said. "Then, I make sure I do my part to help them reach their goal, improve our operations and create a healthier district."  
Along with Harrison's work, District Health Director C. Wade Sellers, M.D., M.P.H., promoted the same ideas of communication, connection and excellence for the various district teams during the event.
"We learned how to pay attention to how a judging thought can take over good intentions and lead to undesired works," said Dr. Sellers. "I loved how each county or work unit took an honest look at what they wanted to start, continue and stop. Our district is growing in awareness and maturity – we are taking responsibility and being creative."
The insights shared through the Northwest Health District's Mini-Mega Meeting is helping its staff successfully touch the lives of even more Georgians. Harrison attributes their continued success and commitment to all staff members taking full responsibility for their roles.
"We're focusing on connection, starting a dialogue and maintaining accountability," said Harrison. "That's how we intend to continue advancing public health and protecting the health of our fellow residents."
To learn more about the Northwest Health district and its public health services, visit www.nwgapublichealth.org.