The Georgia Safe to Sleep Campaign has officially launched statewide and is providing mothers free resources to help protect their babies from sleep-related infant deaths.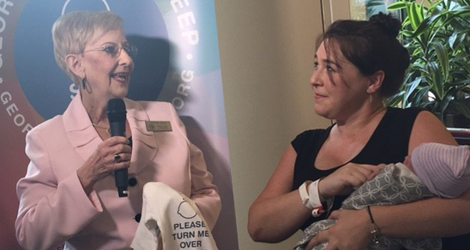 All 77 birthing hospitals in Georgia have pledged to model safe sleep behaviors and will be giving every mother and newborn an infant gown with "This Side Up" messaging to reinforce the fact that babies sleep safest on their backs. They will also receive a Safe to Sleep book reminding all caregivers about the importance of safe sleep practices.
Travel bassinets will be given to Medicaid and uninsured families that can be used for babies up to 15 pounds or four to six months old. The bassinets can be used when a baby is sleeping away from their crib in another room in the home or when the baby is being cared for outside the home.
The Georgia Department of Public Health (DPH) recently launched the campaign during a news conference alongside its dedicated partners including the Georgia's Children's Cabinet led by First Lady Sandra Deal; the Georgia Chapter of the American Academy of Pediatrics (AAP); the Georgia Bureau of Investigation; the Georgia Hospital Association and the Georgia Obstetrical and Gynecological Society.
Collectively, these partners are working to educate mothers, fathers, grandparents and caregivers about the importance of putting babies to sleep following evidence-based practices established by AAP known as the ABCs of safe sleep: alone, back, crib.
"As a parent of four and grandparent of six, I understand how it feels when your children cry out in the night. It's very tempting to want to place them in your bed, but the risks of bed-sharing are just too great," said First Lady Sandra Deal in a press release. "We must educate parents about creating a safe sleeping environment for their babies. It is vital that babies sleep alone, on their backs and in a crib. By promoting these ABCs of safe sleep, we hope to spread awareness and provide the tools necessary to protect babies across the state."
During the campaign's news conference, First Lady Deal and DPH Commissioner presented the state's first "This Side Up" gown and Safe to Sleep book to Laura Fraser, a new mother to an infant boy.
Data in recent years demonstrate a need for increased awareness surrounding proper sleeping practices for infants. Every week, three infants in Georgia die due to sleep-related causes.
"More than 60 percent of sleep-related infant deaths in 2014 occurred in an adult bed. That is nearly 100 preventable infant deaths," said Brenda Fitzgerald, M.D., commissioner of DPH. "Babies need a separate sleep space, not in an adult bed or in an arm chair or on a couch, and always on their backs."
In previous months, the campaign rolled out the Hospital-Based Safe to Sleep Program that provided education, resources and tools for hospital staff members to utilize when modeling safe sleep behaviors for new parents and caregivers. WellStar was one of the first health systems to sign the Safe to Sleep pledge and participated in launching the campaign.
"Our nurses and healthcare teams are dedicated to helping prevent sleep-related infant deaths through parent education and safe-sleep modeling in our hospital rooms," said Avril Beckford, M.D., chief pediatric officer of WellStar Health System. "When doctors, nurses and all health care professionals work as a team and practice up-to-date, evidence-based medicine, it best serves the children in our communities."
To learn more about the campaign and how to properly put infants to sleep, visit www.GeorgiaSafetoSleep.org.