In the U.S. today, people spend close to 90 percent of their time indoors.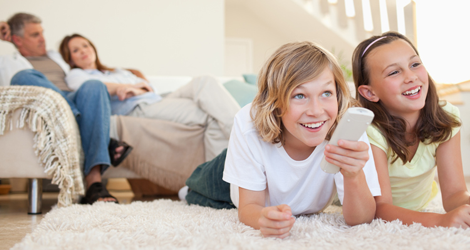 This month, the Department of Housing and Urban Development's (HUD) Office of Lead Hazard Control and Healthy Homes (OLHCHH) is coordinating the inaugural National Healthy Homes Month (NHHM), an outreach campaign designed to help people connect the dots between their health and their home.
This year's overarching theme "Everyone Deserves a Safe and Healthy Home," was chosen to create awareness of what it means to have a healthy home by educating families of potential health hazards in a home, and to empower people to make changes to create the healthiest home possible for their family.
It's important to monitor lead exposure both in and outside the home. Lead poisoning can cause a range of health problems, especially in young children. Children may become exposed to lead by putting their hands or other lead-contaminated objects in their mouth, ingesting lead paint chips found around homes or playing in lead contaminated soil.
Currently, millions of U.S. homes have moderate to severe physical housing problems, including dilapidated structure; roofing problems; heating, plumbing and electrical deficiencies; water leaks and intrusion; pests; damaged paint; and high radon gas levels.
These conditions are associated with a wide range of health issues, including unintentional injuries, respiratory illnesses like asthma and radon-induced lung cancer, and lead poisoning. The health and economic burdens from preventable hazards associated within home are considerable, and cost billions of dollars.
The Georgia Healthy Homes Program at the Georgia Department of Public Health (DPH) is educating Georgians on the appropriate steps to have a safe and healthy home.
"It's essential for Georgians to recognize the importance of maintaining a safe and healthy home, as well as know how to protect themselves from the harmful effects of lead," said Christy Kuriatnyk, MSPH, REHS, director of DPH's Georgia Healthy Homes Program. "We encourage all families to have their home tested for lead if it was constructed prior to 1978, and if they suspect they or their child may be suffering from lead poisoning, contact a health care provider to access a blood lead test."
Kuriantnyk recommends simple, routine steps Georgians can take to avoid lead on a daily basis:
Wash your hands often after being outside, before eating and before bedtime.
Clean children's toys, stuffed animals and pacifiers often with warm soapy water.
If you are exposed to lead where you work, change your clothes and shoes before entering your home.
Tell your landlord or property management company about flaking paint if you rent property.
Do not attempt to remove lead paint yourself; instead, hire a certified contractor to complete this task safely. 
Visit DPH online to learn more about avoiding and removing lead from your home. For more information on NHMM 2016, please visit www.hud.gov/healthyhomes.