The long summer days are ripe with opportunities to enjoy the beach, local pools, scenic parks and hiking trails. If you plan on spending increased amounts of time outside, it's important to put your health first – including your skin health.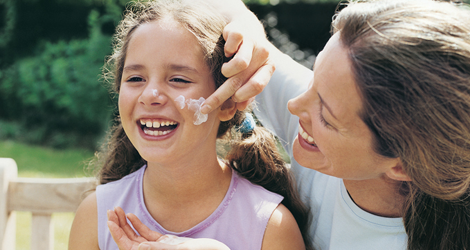 The Georgia Department of Public Health (DPH) is advising adults, parents and caregivers to keep a few skin care recommendations in mind as they enjoy this year's bright, summer season.
Set time limits for children while they play outside in the sun and incorporate breaks into their playtime to get out of the sun. The strongest sunlight is between 10 a.m. and 4 p.m., so it's helpful to schedule your outdoor activities around these time intervals. 
Ultraviolet (UV) rays from the sun and other sources like tanning beds are the primary cause of skin cancer according to the American Cancer Society (ACS). Too much exposure can also cause sunburn, eye damage and premature wrinkles. Shielding your skin with clothing and staying in the shade can also help lower your risks for skin cancer.
Paul Ruth, DPH's chief information officer, spends most of his days in the office, but he also spends time outdoors for photography. He has to be extra cautious outdoors to cover up his skin during the summer months.
"I have been treated for basal cell carcinoma," said Ruth. "I had a visible growth that was removed surgically and I then had follow-up surgery to make sure that the cancer cells were removed. A little over a year ago, I was treated for squamous cell carcinoma. It too, was removed surgically, but I had a follow-up chemo-therapy treatment. Both forms of skin cancer were on my nose."
Prior to being diagnosed with skin cancer, Ruth was not routinely applying sunscreen to protect his skin from sun damage and basal cell carcinoma.
"My doctor's advice is to always wear the right sunscreen," said Ruth. "If I am going to be outside for extended periods, I also wear a wide-brimmed hat. And since I fall into a few of the higher-risk categories for skin cancer, I see my dermatologist once a year for a routine check."
ACS offers these basic tips to stay safe in the sun:
Cover up – when you are out in the sun, wear clothing and a wide-brimmed hat to protect as much skin as possible. Protect your eyes with sunglasses that block at least 99 percent of UV light.
Use a broad spectrum sunscreen with sun protector factor (SPF) of at least 30.
Sunscreens are not waterproof or sweat proof – Reapply sunscreen at least every two hours and even more often if you are swimming or sweating. Sunscreen usually rubs off when you towel yourself dry, so you will need to put more on.
Seek shade – Limit your direct exposure to the sun, especially between the hours of 10 a.m. and 4 p.m., when UV rays are strongest.
Avoid tanning beds and sunlamps – Both can cause serious long-term skin damage and contribute to skin cancer.
For staying sun safe during the summer, visit the American Cancer Society for additional resources.