Quitting tobacco can be a physically and emotionally challenging journey for anyone seeking a healthier life, but for those living with mental illnesses, the grasps of nicotine addiction can be even more difficult to escape.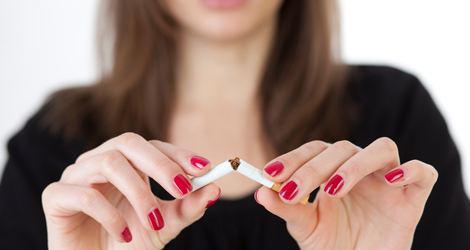 For decades, it has been well documented that tobacco use is the leading cause of preventable illness and death in the United States. However, a lesser known fact is that smoking among U.S. adults with mental illness is 70 percent higher than adults with no mental illness, according to the Centers for Disease Control and Prevention (CDC).
Tobacco use is directly connected to many chronic diseases, most prominently cancer, heart disease and various forms of lung diseases. These health outcomes frequently complicate long-term or even lifelong treatment plans with which many mental health and substance abuse patients live.
Through the Department of Public Health's Georgia Tobacco Use Prevention Program's (GTUPP) and the Department of Behavioral Health and Developmental Disabilities (DBHDD), the state has been successfully tackling issues of tobacco use and mental health for many years.  
In response to federal recommendations from the Centers for Medicare and Medicaid Services (CMS) for mental health agencies to provide tobacco cessation resources during a patient's discharge, the two agencies joined forces in 2015.
Together, DPH and DBHDD created a hospital-based referral system using electronic medical records (EMR) to securely refer mental health patients to the Georgia Tobacco Quit Line (GTQL) within 48 hours of their discharge. Managed statewide by GTUPP, the GTQL is a free and confidential telephone and web-based counseling service that assists Georgians in making a quit attempt.
Five DBHDD hospitals participated in launching this partnership beginning in March 2016, impacting up to 400 discharged patients per month: Central State Hospital (Milledgeville); East Central Regional Hospital (Augusta and Gracewood); Georgia Regional Hospital (Atlanta); Georgia Regional Hospital (Savannah); and West Central Georgia Regional Hospital (Columbus).
"Providers participating in this partnership are using the Georgia Tobacco Quit Line as a clinical intervention to treat tobacco use as a vital sign," said Kenneth Ray, MPH, deputy director of the Office of Tobacco, Policy, System and Environmental Change for the Chronic Disease Prevention Section. "Through this evidence-based service, we are creating more access points in our state's health care delivery system that empower Georgians to receive support, resources and motivation to combat their nicotine dependence."
All DBHDD mental health hospitals have enacted a 100% Smoke-Free Policy – a reflection of the agency's commitment to promoting overall health for its patients.
"Smoking is a significant health challenge for many people with mental illnesses," said Emile Risby, M.D., DBHDD state medical director. "Discharge from a hospital is a natural time for a person to be considering healthy decisions. By integrating the Quit Line into the discharge process, we are taking advantage of what is possibly one of the best opportunities to help someone quit using tobacco."
The GTQL is available to Georgians age 13 and older in accordance with the United States Public Health Service Treating Tobacco Use and Dependence Clinical Practice Guideline. Participants are offered a five-call program while women who are pregnant or postpartum are offered a 10-call program.
For assistance in quitting tobacco, call the GTQL at 1-877-270 STOP (7867) or 1-855 DEJELO-YA (Spanish). The service is also available to Georgians with hearing impairments by calling 1-877-777-6534. 
To find more information about the GTQL, visit dph.georgia.gov/GTQL. For support and information regarding mental health services available through DBHDD, visit dbhdd.georgia.gov.