Maintaining overall wellness for adults and children requires a healthy balance of nutritious food choices and an active lifestyle. However, many families have limited options when it comes to enjoying daily meals.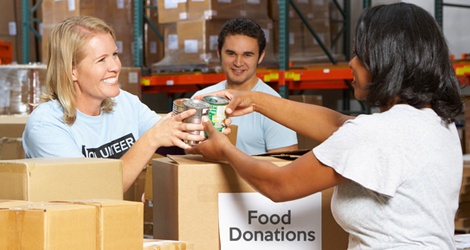 The Atlanta Community Food Bank, a Georgia Shape partner organization, works to mitigate this challenge by coordinating a variety of food donation programs. The organization also works to raise awareness about the surprising prevalence of food insecurity.
Food insecurity is defined as having limited access to affordable and nutritious foods. For the third consecutive year, the U.S. Department of Agriculture (USDA) reported that 1 in every 6 Americans is food insecure – this number has remained at or near 50 million Americans for the past four years. The U.S. Census Bureau also reported that 46.7 million people (14.8%) lived in poverty.
According to Feeding America's 2014 Map the Meal Gap Study, 18.7 percent Georgians don't know where they will find their next meal and 28.2 percent of children (age 5 and under) are living in food insecure households.
"People who are struggling with not having enough money to support all the needs of their families face difficult choices," said Kyle Waide, chief executive officer, Atlanta Community Food Bank. "When those choices involve food, they often cope by deciding to skip meals. They purchase less expensive food because it's what they can afford."
"Families who are struggling eat food that is packaged and processed because those foods don't go bad and they don't have to fear they have wasted their money," he continued.
These spending tradeoffs, combined with limited access to healthy foods, can be directly linked to significant health challenges. Among all Food Bank clients, 66 percent of households have a member with high blood pressure and 40 percent have a household member living with diabetes.
To provide support to Georgia families enduring food insecurity, the Food Bank helps individuals, groups and corporations manage Food and Fund Drives. In 2015, 2,000 food drives were conducted, resulting in 1.5 million pounds of food donations and $497,754 in raised funds to support vulnerable communities.
During the summertime when school is out, children are often impacted by food insecurity because they no longer receive three meals a day. The Atlanta Community Food Bank recognized this growing trend in Georgia, and initiated a monthly donation program to stop hunger during the summer months. Each $1 donation enables the Food Bank to distribute more than $9 worth of groceries.
Donating food is just one method the Food Bank uses to engage community members about food insecurity and the importance of donation. Its Product Rescue Center is one of its most popular volunteer activities where all foods are inspected and packaged. Once approved and prepared for distribution, the foods are sent to the Food Bank's more than 600 non-profit partner agencies. 
"Good nutrition is imperative for a child's health, and too many children in Georgia don't have access to well-balanced daily meals to support their growth and development," said Emily Anne Vall, Ph.D., Georgia Shape project manager. "The admirable work of the Atlanta Community Food Bank fits into our sustained efforts to promote the value of a nutritional diet while also building a network of resources that enable families to make healthier choices and live well every day."
There are many ways you can help children and families access healthy meals this summer and all year long. Visit the Atlanta Community Food Bank at www.acfb.org to donate or learn more about planning your own food donation drive within your community.