Over the past 17 years, Camp Kudzu has been providing summer fun and education for children living with type 1 diabetes.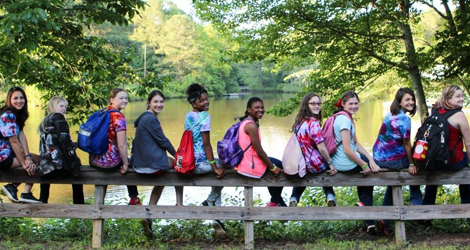 With several camp formats offered, each program at Camp Kudzu provides campers and their families with diabetes education.
When attending Camp Kudzu, participants are grouped with a community of about nine campers, all of whom are similar in age and development levels. The campers are cared for by a team of clinicians who meet with them daily before meals, snack times or for routine check-ups. 
Campers are also supported by a dedicated staff of counselors, age 19 and older, who have been trained to work with youth living with diabetes. Many of the counselors have made their work at Camp Kudzu a life passion as they are often pursuing education in health-related fields such as pharmacy, nursing or medicine.
"Camp is the one place where children and teens with diabetes find others who understand what it takes to live with diabetes, and where the focus is on fun," said Alex Allen, executive director of Camp Kudzu. "We are staffed with medical personnel and wonderful counselors who know how to handle the highs and lows of the disease."
Camp Kudzu also creates a fun atmosphere for summer in addition to its diabetes education programming. Activities range from swimming, paddle boarding, zip lining, horseback riding, arts and crafts, music and more.
"It's great to see an organization offering engaging resources tailored to children and teens with type 1 diabetes," said Allison Smith, MPH, CHES, diabetes and vision program manager at the Georgia Department of Public Health (DPH). "Through Camp Kudzu, they're able to learn fun ways to manage their diabetes while focusing on living an active and healthy life. Many of these health lessons are great tools for kids to learn early in life and continue to implement as they grow into adulthood."
Type 1 diabetes is typically diagnosed in children and young adults, sometimes referred to as juvenile diabetes. According to the American Diabetes Association (ADA), there are approximately 1.25 million American children and adults living with type 1 diabetes. In type 1 diabetes, the body does not produce insulin. Through insulin therapy and other treatments, young children can learn to manage their condition and live long, healthy lives.   
For more information on Camp Kudzu, including session dates and registration information, visit campkudzu.org. Visit DPH online to learn more about diabetes and public health resources offered by its Diabetes Prevention Program.