Over the past eight years, Lydia Norris, manager of the Southside BP on Highway 27 in Carrollton, has watched the spending habits of her customers evolve.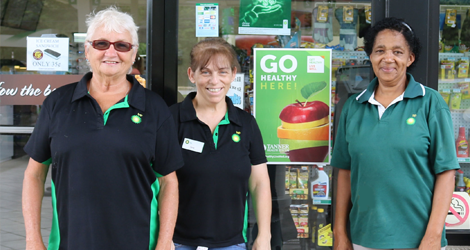 Norris is working hard to keep up with customer demand for healthier food options when making a pit stop at the local convenience store, and the most popular items can be found in the fruit basket near the cash registers.
In the basket, you can take your pick of whatever fruits and vegetables are in season. The convenience store is also adding a kitchen that will sell items like turkey club sandwiches, a healthier alternative to common fast foods like hamburgers.
In rural communities like west Georgia, sometimes finding healthy food options isn't always as easy as a trip to the nearest grocery store or farmers' market. Places like these are referred to as food deserts, where you're more likely to find a fast food restaurant or convenience store than a supermarket.
Nationwide, the U.S. Department of Agriculture estimates that 23 million people live in low-income rural areas that are more than 10 miles from a supermarket. Gas stations with convenience stores that typically offer alcohol, cigarettes and high-calorie snacks are prevalent, especially in low-income neighborhoods. Limited access to healthy food choices can lead to poor diets, weight gain and other diet-related diseases.
Tanner Health System's Get Healthy, Live Well has worked with several of Morgan Oil's local convenience stores to make it easier to find healthy, nutritious food in west Georgia.
With help from a grant from the Centers for Disease Control and Prevention (CDC), Get Healthy, Live Well explored opportunities to partner with convenience store owners and managers in offering fresh produce in their stores. This initiative is part of an overall effort to promote a healthy lifestyle and prevent chronic disease for residents of Carroll, Haralson and Heard counties.
In May 2013, Get Healthy, Live Well's convenience store task force held a training seminar for 15 convenience store managers at Morgan Oil and Banks Oil. The task force developed a list of requirements to be designated as a Get Healthy, Live Well convenience store. Those requirements include offering at least three fresh fruits or vegetables, bottled water, calorie-free drinks, low-fat dairy products and whole grain options.
"Get Healthy, Live Well wants to help make it easier for residents in west Georgia to find healthier food options," said Gina Brandenburg, program manager at Get Healthy, Live Well. "Making small changes like grabbing an apple instead of potato chips can lead to a happy, healthy life."
Michelle Morgan, owner of Morgan Oil, is co-chair of the West Georgia Regional Food System Collaborative that was launched by west Georgia residents who are working to create a healthier food infrastructure in west Georgia. It consists of more than 30 representatives from local organizations and is organized by Get Healthy, Live Well.
Morgan Oil, which has been in Carroll County for about 85 years, is working to be part of the solution alongside her dedicated vendors.
"When you stand in front of the chip display, there is gluten-free, there's low-fat," said Morgan. "Most convenience store owners or managers do carry healthy alternatives because our vendors are carrying them. Our vendors are doing the research."
Amy Callahan, manager of the BBW convenience store on Maple Street in Carrollton, also keeps a fruit basket near the register stocked with Granny Smith apples, lemons, limes, Red Delicious apples, peaches bananas.
Callahan has noticed a change in her customer's snacking habits since she started working at the store four years ago.
"I've actually had a few people lay down the junk food and get a couple of apples instead," she said. "Keeping our fruit basket full just really catches the customers' eye and provides an alternative to the junk food that convenience stores sell."
To learn more about Get Healthy, Live Well's efforts to increase access to healthy foods, visit www.GetHealthyLiveWell.org.