The City of Clarkston recently adopted a comprehensive smoke-free ordinance, effective Sept. 4, 2016, to reduce second hand smoke exposure, improve health outcomes and promote a healthier DeKalb County. The smoke-free ordinance prohibits the use of smoking, hookahs and e-cigarettes in all public places and all public and private workplaces.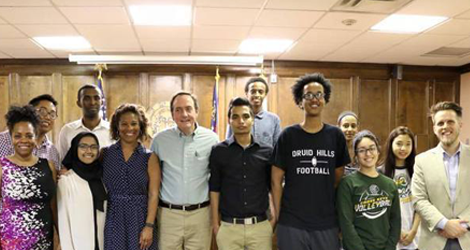 The new smoke-free ordinance will go a long way in protecting the more than 12,000 citizens in Clarkston, one of the most diverse cities in Georgia. In 2015, the United States Census showed that 43.9 percent of Clarkson residents lived below poverty level, 31.5 percent had no health insurance and the median household income was $33,151.
With reduced exposure to second hand smoke, Clarkston residents will have better opportunities to protect their health and avoid many of the lifelong and costly health impacts of tobacco use for children and adults including lung cancer, respiratory infections and asthma.
"We commend the City of Clarkston for passing an ordinance to protect their citizens from secondhand smoke in workplaces and places open to the public," said June Deen, senior vice president of Public Policy and Health Promotions with the American Lung Association (ALA) of the Southeast and a proponent of Clarkston's new ordinance. "We hope other metro cities will take note and follow their lead."
The City of Clarkston's Clean Indoor Air Ordinance contains health data from the 2006 U.S. Surgeon General's Report, specifically the Health Consequences of Involuntary Exposure to Tobacco Smoke. This report outlines that there is no safe level of second hand smoke exposure, causing more than 41,000 deaths per year in the United States.
The Georgia Department of Public Health's (DPH) 2014 Adult Tobacco Survey indicates that adults in DeKalb Health District were significantly more likely to be exposed to second hand smoke in public places than in the workplace, in a vehicle or at home. Approximately 44 percent or 140,000 of DeKalb adults were exposed to second hand smoke, which was similar to the Georgia prevalence of second hand smoke exposure at 45 percent or 5.3 million.
"The new ordinance is designed to protect all citizens from SHS exposure," said Kenneth Ray, MPH, deputy director of the Office of Tobacco, Policy, System and Environmental Change in the Georgia Department of Public Health's Chronic Disease Prevention Section. "Clarkston is a role model for DeKalb County in protecting all of its residents from the dangers of second hand smoke exposure."
The partners behind the success of the new Clarkston ordinance are the Center for Pan Asian Community Services; DeKalb County Board of Health; American Lung Association of the Southeast; Eric Bailey, former lobbyist for the America Cancer Society; Women Watch Afrika; GATE youth members; Clarkston City Council; and the Georgia Tobacco-Use Prevention Program.
Visit DPH online to learn more about the. Georgia smokers seeking help in quitting tobacco can call the Georgia Tobacco Quit Line any time at 877-270-STOP (7867).