The Habersham County School District's adoption of the 100% Tobacco-Free School (TFS) model policy gives approximately 6800 students and 1100 staff a fresh start in a smoke-free environment. The new policy covers all facilities, school sporting events and school grounds. Additionally, the 100% TFS model policy extends to employees and visitors.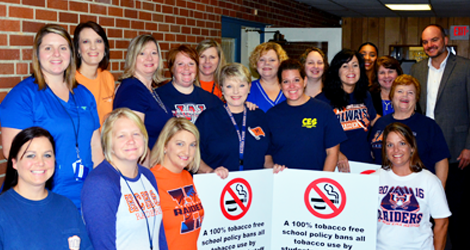 Tenesha Wallace, M.A., with the Georgia Department of Public Health's North Health District, met with nursing supervisor Nancy Rithmire, RN, MS, NCSN, to review the existing school policy to get the board of education's approval for the 100% TFS model policy for Habersham County School System.
"Habersham is an example of school nurses taking the lead again to provide policy changes to protect the health of students and the community," said Wallace. "The administrative team made updates to the current tobacco policy to include e-cigarettes and vaping tools. There was a concern about the growing tobacco issue among students."
Expanding the 100% TFS model policy is the success of a strong partnership with school nurses. Sara Kroening, RN, MSN, FNP-BC is the deputy chief nurse for school health at the Georgia Department of Public Health (DPH). Kroening continues the collaboration with school nurses in the overall health of protecting students statewide from tobacco-use and secondhand smoke.
"School nurses, at the center of the schools' healthcare program, are the key providers of acute and chronic healthcare services, promoters of health education, and advocate for safe school climates required for Georgia's children to be healthy and ready to learn," said Kroening.  "School nurses have the education, skills, and training necessary to influence policies that effect their students and communities, including ensuring an environment that is 100% tobacco-free."
With 40 years in nursing, it's no surprise that Rithmire and a group of school nurses led the efforts to make changes to revise the tobacco-free school policy in Habersham County.
"We thought we were already tobacco-free but we learned from the health department that Habersham was not on the list for tobacco-free counties," said Rithmire.  "We don't want tobacco products in our schools. We want to protect our community, our children and our staff from tobacco products. It was a good reinforcement of what we thought we were already doing and we have revised our school tobacco-free policy."
School Superintendent Matthew Cooper was on board with the tobacco-free movement, including e-cigarettes, from the beginning. He worked with Rithmire to update the Habersham County District School tobacco policy to win approval from the board of education to become a tobacco-free school system. 
"My primary role was to be wise enough to listen to our nursing supervisor of the need for this updated policy," said Cooper. "This policy update was critical to the health and safety of all students and staff in our school district.  The Habersham County Schools now take a stand against the harmful effects of tobacco and that the school system is genuinely concerned for the well-being of our students, staff and visitors."
With school in session, Wallace met with Rithmire and school nurses to put in place the strategy to educate, implement and enforce the policy changes through the district. Technical assistance will continue at the board of education meetings, newsletters, and communication by school administrators.
To become informed about DPH's efforts to help schools become 100% tobacco-free, visit GTUPP online information at dph.georgia.gov/tobacco.