The Georgia Department of Public Health (DPH) has done it again. Kaiser Permanente (KP) presented DPH with the 2016 Most Fit Company Corporate Cup Award at this year's KP 5K Run/Walk event in downtown Atlanta. The award was based on DPH's size, 1,000-4,999 full time employees, and surveys completed by employees about health and wellness programs.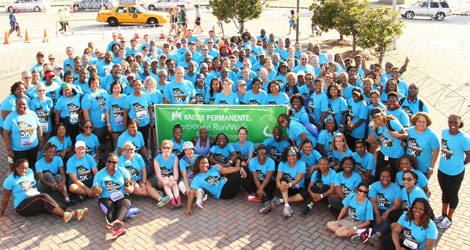 Team Georgia, consisting of 307 state employees from various government agencies along with family members and friends, topped last year's elite to novice runners and walkers. This year's race drew a record number of 18,000 participants. DPH set a record with 65 employees.
"DPH has made great progress in creating a culture of health and wellness at work and at play," said Christine Greene, DPH's deputy chief of staff. "Our success is due to the leadership and vision of DPH's commissioner, Brenda Fitzgerald, M.D., and state, county and district employees. We applaud state agencies who participated to make wellness and fitness a priority."
DPH was recognized during the closing ceremonies by former U.S. Olympian and running expert Jeff Galloway, the director of the KP Corporate Run/Walk.
"You are practicing what you preach," said Galloway. "You are telling companies and individuals constantly that they need to do a certain amount of daily exercise in order to stay healthy and prevent chronic disease. You are doing it yourself and I congratulate you."
Research shows that employees who participate in an exercise program are 28 percent more productive at work. Galloway applauds DPH for raising the bar and gold standard for fitness and physical activity during the workday.
Whether working with personal trainers or group class instructors at the Capitol Hill Fitness Center (CHFC), DPH employees benefit from daily classes, coaching and wellness programs.
"From last year to now, we have grown tremendously and continue to build our Worksite Wellness brand and credibility, evermore in our effort in accreditation through HealthLead, which works with us to achieve a sustainable, healthy workplace and chart the course for our improvement," said Carmen Daniel, the coordinator of worksite wellness in DPH's office of the chief of staff.
Katrina Johnson, an operations analyst in DPH's Office of Information Technology and Michael Rogers with DPH's Office of Health Information and Planning both benefit from the wellness initiatives at DPH and were walkers in the KP 5K.
"This was my sixth time participating and walking with co-workers and friends," said Johnson. "I walk every day from six to 10 miles. So I can stay fit, stay healthy and I rest better. Most of all, I like the way I look with working out."
Rogers signed up this year after being away from his walking routine. He accomplished his main goal.
"Doing it after not having done anything in the last year, especially walking or attempting to run a 5K, was my main goal," said Rogers. I have participated five of the last eight years. It was a wonderful family affair to walk the 3.1 miles with my wife and granddaughter, who was the youngest participant on Team Georgia."
For a complete listing of the Kaiser Permanente Corporate Run/Walk winners, photos, and awards, visit their webpage for results or to track participants.  
To become a member of the Capitol Hill Fitness Center or join the next DPH Worksite Wellness event, send an email to DPH-WorksiteWellness@dph.ga.gov .