More than 400 public and private health care practitioners came together for the 23rd annual Immunize Georgia conference hosted by the Georgia Department of Public Health (DPH).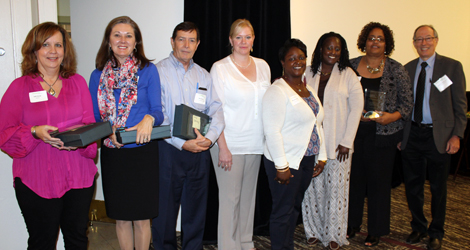 "The Immunize Georgia conference provides an opportunity to hear updates and learn about best practices in immunization from respected leaders in the industry," said Penny Conner, nurse consultant for the Immunization Program at DPH. "Each year we take time to recognize those who have gone above and beyond to raise immunization rates in Georgia."
The goal of the Georgia Immunization Program is to help all Georgians, from newborns to our elderly, lead much healthier lives by protecting them from infectious diseases. This is especially true during the flu season when all Georgians, six months and older, are encouraged to receive their annual flu shot.
Noreen Dahill is an immunization program consultant in Cobb-Douglas, District 3-1. Dahill received the Clay Coleman Excellence in Customer Service Award, which honors staff members who demonstrate passion, enthusiasm and innovation in the provision of services, expertise or technical assistance to any immunization stakeholder, including the public. Dahill observed that WellStar offices were below National and Georgia NIS rates for human papillomavirus (HPV). Instead of working with each office individually to increase rates, she chose to work with the Health System as a whole.
"Georgia vaccine rates continue to exceed national averages for pediatric and most adolescent Advisory Committee on Immunization Practices recommended vaccines," said Sheila Lovett, director of the Immunization Program at DPH. "We are proud of the achievements made by WellStar Health System in increasing HPV coverage in Georgia. However, we are missing crucial opportunities to protect all adolescents from cancers caused by HPV. DPH is committed to working with providers and communities to reach the Healthy People 2020 goal to increase the vaccination coverage level of three doses of HPV vaccine for females and males."
DPH presented the 2016 Walt Orenstein Champions for Immunization Award to individuals, agencies or coalitions who demonstrate excellence in providing immunization care.
Mike Chaney, Immunization Coordinator at Georgia Chapter, American Academy of Pediatrics, was recognized for his more than 40 years of immunization work. In his various roles, Chaney has created strong physician, public health and private sector relationships that have improved access to immunizations for children and families in Georgia.
The Thomas County Health Department was recognized for its staff's commitment to community outreach and providing guidance for individuals who may have questions about immunizations. Last year over 1,470 students and 200 plus faculty and staff were immunized throughout the city and county schools. By hosting programs at local schools, businesses and organizations, the department brings awareness to the importance of getting vaccinated.
Lora Denton, M.D., Coordinator of the Internal Medicine Residency Ambulatory Clinic of Memorial Health University Medical Center in Savannah was recognized for her long-standing commitment to advancing education. She has been educating internal medicine residents and medical students on the importance of patient immunization for years.
Jodi Snow, R.N. at Wellstar Health System has demonstrated that she is an immunization champion through her dedication to increasing the quality of visits her patients receive and the efficiency of time for the parent, child and provider. She helped develop and implement a program that decreased the number of missed opportunities for vaccines from 21 percent in 2013 to just 4 percent in 2016 at WellStar Kennestone Pediatrics.
Congratulations to all the recipients from this year's conference. We thank you for your continued efforts to protect and immunize Georgians.
---
Photo: Provided by Golin Harris -- Honorees Immunization Champions