On Oct. 18, the University of Georgia College of Public Health hosted the fifth annual State of Public Health conference. This event brought together Georgia's public health professionals with policy makers, academics, and business leaders working to improve Georgia's public health outcomes.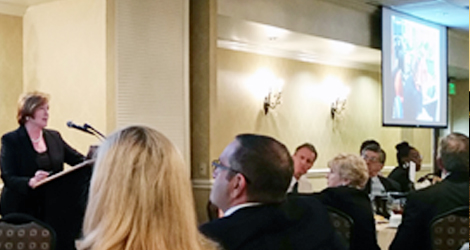 This year's conference highlighted the value of many efforts underway in Georgia that are addressing the ever-changing, and often growing, list of challenges people face to their health and safety.
Brenda Fitzgerald, M.D., commissioner of the Georgia Department of Public Health (DPH), delivered the lunchtime address, emphasizing the many accomplishments of local Public Health departments throughout the state that are making a difference in communities large and small. She further expressed thanks and pride in the work ethic of those who represent Public Health in Georgia.
"Public Health in Georgia is stepping up, believing our data and engaging the world," said Dr. Fitzgerald. She went on to provide specific examples of ways in which DPH is supporting improvements in infant mortality, underserved dental needs, Zika prevention, hurricane response and much more.
Public Health students at the conference learned about many of the ways they can help. They also provided information as a part of presentations ranging from sexually transmitted disease prevention to volunteer work at flu vaccination drives.
The event concluded with a keynote address from Mary Guinan, M.D., Ph.D., Founding Dean with the School of Community Health Sciences at the University of Nevada, Las Vegas. She shared a number of stories related to her ground-breaking work against AIDS, smallpox and other diseases that took her across the country and abroad.
Individual efforts are bringing better health outcomes to many people in Georgia. Although, according to the state's top health officer, it is the partnerships, in neighborhoods and local jurisdictions, in collaboration with and support from the state that are driving positive change.
"I have been absolutely stunned and amazed at the passion and the heart that is present in Public Health in Georgia," said Dr. Fitzgerald. She went on to describe what she called the 'synergy' that she has seen at every local health office that she has visited recently.
"That synergy is the cohesive effort of a group that is more than the sum of its parts, and it enables that group to out-perform any individual effort."