Editor's Note: November is Diabetes Awareness Month, an opportunity to focus attention on the disease and the tens of millions of people affected by it. The 2016 theme is This Is Diabetes and the American Diabetes Association is encouraging individuals to submit their real-life stories of managing the day-to-day triumphs and challenges of diabetes. PHInsider introduces you to one of DPH's own employees willing to share her story.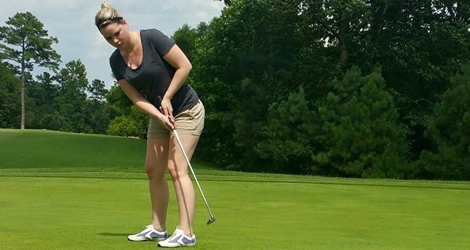 My name is Allison Smith and I am the manager of the Diabetes and Vision Program at the Georgia Department of Public Health (DPH). I am very familiar with type 1 diabetes - I was diagnosed with the disease when I was a freshman in college.
Eight years ago, I was just beginning to adjust to college and the responsibilities that come with it, particularly being on a golf scholarship. Beginning with 6 a.m. workouts each morning, then four hours of class and four hours of practice on the golf course, I felt extremely tired, thirsty and hungry. On top of that, I was constantly having to find a bathroom to urinate. I was thinking, as was everyone else who knew what I was going through, my symptoms were all the result of stress and exhaustion. In fact, I was experiencing some of the classic symptoms of diabetes! When I went home for Thanksgiving break, I went to see my doctor. He did a fasting blood glucose test and confirmed my diagnosis of type 1 diabetes, and suspected that I had had full-blown diabetes for about two months.
My blood glucose was 986 milligrams per deciliters (mg/dL). The normal range is between 70 mg/dL and 110 mg/dL. To my surprise, I was rushed to the hospital intensive care unit where doctors worked to get my blood glucose levels under control. I spent the next two days, including Thanksgiving, in ICU. As my blood glucose levels started to drop to normal range, I began to lose my sight as my eyes struggled to adjust to the sudden change. I spent three more days in the hospital out of ICU learning how to manage my diabetes and take care of myself. It was another three weeks before my sight fully returned.
Since that time I have successfully managed my diabetes without complication.
Diabetes is a chronic condition that affects the body's ability to produce or properly use insulin. Type 1 diabetes is an autoimmune disease where the pancreas does not produce any insulin. Diabetes is diagnosed through either a fasting blood glucose test or a Hemoglobin A1C. The A1C test is the primary test used for diabetes management and diabetes research.
According to DPH's 2013 Diabetes Burden Report, about one in 10 Georgia adults has diabetes. Approximately 6.5 percent of Georgians with diabetes have not been tested and are unaware they have the disease. Type 1 diabetes makes up only 5 percent of the diabetes population, the other 95 percent consist of type 2 diabetes, prediabetes or gestational diabetes.
Individuals diagnosed with type 1 diabetes must have multiple insulin injections each day or have a continuous flow of insulin through a pump. In addition, type 1 diabetics have to monitor their blood glucose levels through multiple finger prick tests every day.
I wear an insulin pump to manage my disease. My pump has become a part of me because I wear it around the clock, everywhere I go. It provides a constant flow of insulin into my body to help keep my blood glucose level in normal range. With the insulin pump I still have to be conscious of what I eat and adjust my insulin dose based on the amount of carbohydrates I take in at each meal. And every morning I check my blood sugar with a finger prick test and then I enter that information into my pump.
Unlike type 2 diabetes, where your body does not use insulin properly or is insulin resistant as a result of poor diet, type 1 diabetes cannot be completely controlled with diet and exercise, although it is essential for optimal health.
Regular exercise helps me maintain normal blood glucose levels and reduces periods of extremely high blood glucose. Many factors can affect my blood glucose. Not only does diet play a huge roll in elevated blood glucose levels but stress can raise these levels as well. By controlling my stress level and being able to adapt helps me maintain optimal glucose levels. It is possible to live well with diabetes. I am proof of that.
If sharing my story inspires one co-worker or loved one to get their A1C checked, I will have done my part to spread awareness and education.
For more information about diabetes prevention and control, visit DPH's webpage.