The Georgia Department of Public Health (DPH), Georgia Parent Teacher Association (PTA) and the Georgia Department of Education (GaDOE) commend the State Board of Education (SBOE) on signing the Tobacco Resolution regarding the 100% tobacco-free schools (TFS) model policy. This resolution protects over 1.4 million students from the harmful effects of tobacco and the exposure of secondhand smoke. This policy also protects teachers, faculty, administrators and visitors.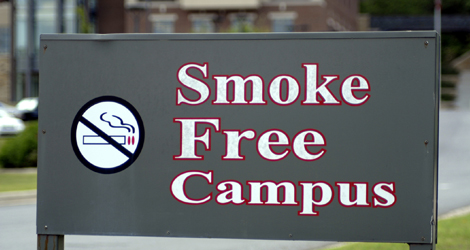 The tobacco resolution, signed by GaDOE and SBOE, is clearing the air of smoke on school campuses and creating and maintaining a positive and healthy school climate for more than 181 school districts in Georgia. To date, 116 out of 181 local public school districts and six out of the 115 charter schools have adopted the 100% TFS model policy. This resolution is critical to creating and maintaining a positive and healthy school climate. GaDOE and SBOE hope the tobacco resolution will help eliminate exposure to secondhand smoke and encourage youth who use tobacco to quit.
"It is so important to us, here at the Georgia Department of Education to create safe, healthy, and positive environments where students can learn," said Richard Woods, state school superintendent. "We are proud to partner with the Georgia Department of Public Health to foster healthy school climates and protect students from the dangers of tobacco products and secondhand smoke, including e-cigarettes."
Each day in the United States, more than 3,200 youth aged 18 years or younger smoke their first cigarette, and an additional 2,100 youth and young adults become daily cigarette smokers according to the Centers for Disease Control and Prevention.
"This partnership gives Public Health an opportunity to help protect the health and well-being of every child in elementary, middle and high school from being exposed to harmful chemicals in cigarettes," said Brenda Fitzgerald, M.D., commissioner of the Georgia Department of Public Health. "DOE's tobacco resolution can help reduce the risk among youth for serious health problems, such as cancer, cardiovascular diseases, respiratory diseases and perinatal conditions later in adulthood."
Since the joint letter from DPH, DOE and the GA-PTA, which was sent to all superintendents before the beginning of the 2016-2017 School Year, 12 additional schools in Georgia have joined the 100% TFS movement:
Charter Schools:
Graduation Achievement Charter High School
Southwest Georgia STEM Charter School
Statesboro STEAM College, Careers, Arts and Technology Academy Charter School
Centennial Academy Charter School
Georgia Cyber Academy
Hapeville Charter Middle School and Hapeville Charter Career Academy
Public School Districts:
Houston County Schools
Brooks County Schools
Cherokee County Schools
Habersham County Schools
Thomas County Schools
Bremen City Schools
"We commend those schools who have joined the tobacco-free movement in Georgia," said Lisa-Marie Haygood, the president of GA-PTA. "Our tobacco resolution helps us to tackle a very big concern regarding tobacco use and e-cigs use among our youth. With more tobacco-free schools and health awareness, we can further reduce and eliminate smoking on school grounds and reach those students to quit tobacco."
To become informed about DPH's efforts to help schools become 100% tobacco-free, visit GTUPP online information at dph.georgia.gov/tobacco.  You can also find out if your school district has adopted and implemented the 100% model Tobacco-Free School Policy visiting our Tobacco-Free Places. If you need help quitting tobacco-use or e-cigs, DPH offers free counseling and cessation services 24/7 through the Georgia Tobacco Quit Line at 1-877-270-STOP (7867).