The Georgia Department of Public Health's (DPH) Worksite Wellness Program has earned Bronze Level Accreditation from HealthLead™. The recognition was given for DPH's commitment to improving employee health and having the systems in place to achieve it.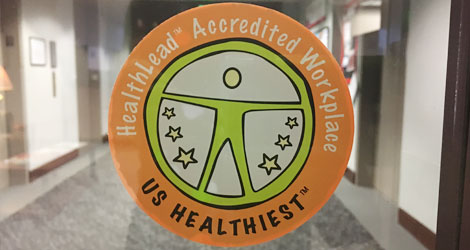 HealthLead™ is a national accrediting agency. It sets high standards for workplace wellness programs including culture, environment, policies, benefits and programs that support employee well-being.
Other organizations that have achieved the same level of accreditation as DPH are the North Dakota Department of Public Health, the Centers for Disease Control and Prevention, City of Dublin, Ohio, and Monterey County, California.
The HealthLead™ milestones are organized around three key areas: (1) Oganizational Engagement and Alignment, (2) Population Health Management and Well-being, and (3) Outcomes Reporting. The accreditation process included an online assessment, a formal presentation and a one-day site audit with two reviewers from HealthLead™, all done over the course of 18 months.
Accreditation is an important step in DPH's mission for optimal employee health. 
"Applying for accreditation provided us with a comprehensive review of strengths, opportunities we may have overlooked, and gaps in our current wellness practices such as leadership, communications, primary prevention and risk stratification," said Carmen Daniel, coordinator for Worksite Wellness. "Additionally, HealthLead™ provided us with recommendations for improving program scope, capacity and sustainability."
This year will bring new fitness, health and wellness opportunities for all DPH employees through Worksite Wellness. To learn more go to Worksite Wellness and the Capitol Hill Fitness Center or email dph-capitolfitness@dph.ga.gov.
---