Watch video and check out photo gallery of the PHAB and Cultural of Quality Day. 
The Georgia Department of Public Health (DPH) this week celebrated Culture of Quality Day with the submission of its application for national accreditation with the Public Health Accreditation Board (PHAB). In addition, DPH teams and individuals were recognized for quality improvement (QI) projects that improved a process or service within their program or division.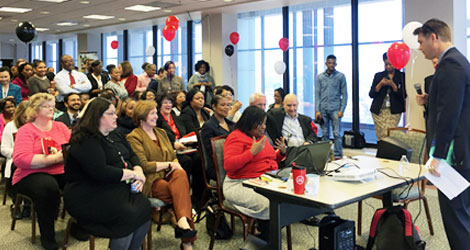 "This is so exciting and I am so thankful for the work I see being done," said Brenda Fitzgerald, M.D., commissioner of the Georgia Department of Public Health. "I see babies being saved; I see vital records being processed and maintained; and I see accurate data that can be used to make clear decisions in all programs."
The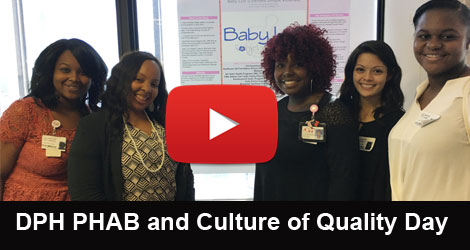 DPH Quality Improvement (QI) Plan is one of the required documents for PHAB's national accreditation. The QI Plan is the roadmap for quality improvement activities and provides a systematic approach to developing, identifying, implementing, monitoring and evaluating opportunities to work more efficiently and effectively as an organization. The QI Plan outlines the goals, objectives and strategies that establish a culture of quality within DPH.
District Health Directors S. Elizabeth Ford, M.D. (DeKalb), Jack Kennedy, M.D. (Cobb & Douglas) and Lloyd Hofer, M.D. (Gwinnett, Newton, Rockdale) selected the top three QI projects and posters for Culture of Quality Day. The winners received QI awards along with certificates of excellence for all participants. Ford, Kennedy and Hofer have led successful accreditation efforts in their own health districts.
"To be accredited is to be great," said Jamie Howgate, DPH's chief of staff. "It's a part of becoming a great organization. The great thing about accreditation too is that in the framework are the things we're supposed to be doing as a state agency."
DPH employees who participated in the QI Scavenger Hunt and provided answers to questions about the QI council members, QI method or tool, Good 2 Great champions or the location of the Performance Management dashboard and DPH QI Plan were awarded special incentives. The scavenger hunt winners are Shana Scott, JD, MPH, Health Systems director and Monica Hendrickson, nurse practitioner, certified diabetes educator and hypertension and diabetes nurse consultant in DPH's Chronic Disease Prevention Section.
Congratulations to DPH for submitting the PHAB application and for hosting Culture of Quality Day! Watch video and check out photo gallery of the PHAB and Cultural of Quality Day.