Governor Nathan Deal presented the Governor's Public Safety award for Outstanding Contribution to Profession to J. Patrick O'Neal, M.D., the director of health protection with the Georgia Department of Public Health (DPH). Dr. O'Neal is one of the few recipients of the award who is not a public safety professional.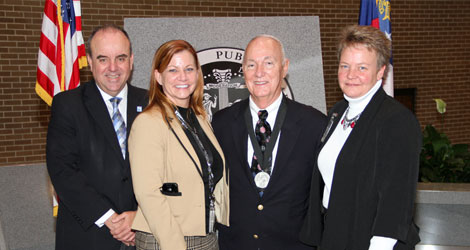 The Governor's Public Safety Awards (GPSA) ceremony was held at the Georgia Public Safety Training Center (GPSTC) in Forsyth. Nine outstanding public safety professionals were recognized for acts of heroism and three were commended for contributions to their profession. The recipients were given medallions and their names were added to the GPSA monument located at GPSTC:
Act of Heroism – recognizes those who, within the previous year, performed an exceptional deed that resulted in saving the lives and/or protecting property.
Outstanding Contribution which Enhanced Professional – job performance that had an overwhelming positive effect on the overall profession.
Governor Deal described the recipients as "courageous individuals who have made a commitment to help safeguard our communities and protect our families."
The annual GPSA program began in 1998 to recognize public safety officers who go above and beyond the call of duty to protect citizens and make significant contributions to the public safety profession at large. Nominations were submitted by local governments, state agencies, associations, police departments, sheriff's offices, correctional facilities, fire departments, 911 communications offices, emergency medical services, emergency management agencies and private citizens.
In nominating Dr. O'Neal it was said, "During his nearly 50 years of service to the medical profession, no one has done more to advance the EMS profession, nor has been a more passionate or effective advocate for public safety and EMS than Pat. O'Neal. On behalf of his many friends, colleagues and employees, we can think of no one more deserving of the Governor's Public Safety Award for Contribution to Professional."
Dr. O'Neal is the longest-serving medical director for the Georgia Office of EMS and Trauma, and he has served EMS in numerous capacities, including as a physician in the emergency department, the medical director for EMS providers, and the regional EMS medical director for the Greater Atlanta area.
DPH congratulates Dr. O'Neal and is very proud of his service and dedication to the agency's mission to prevent diseases, injury and disability, to promote health and well-being, and to prepare for and respond to disasters on behalf of all Georgians.