The Georgia Department of Public Health (DPH) and the Georgia Department of Human Services (DHS) aren't quite the departments they were just a few months ago. That's because 140 employees of the agencies collectively dropped 515 pounds and lost 140 inches during DPH's Holiday Survivor V Challenge. That weight loss is equivalent to 1,750,000 calories!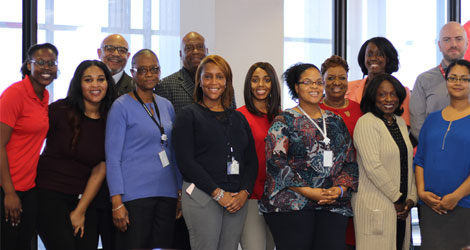 DPH's Holiday Survivor Challenge is a 10-week program designed to help employees avoid weight gain during the Thanksgiving, Christmas and New Year holidays. It and offers a fun and supportive environment to encourage participants to set realistic weight loss goals, make mindful food choices, and not over indulge in holiday foods and sweets.
"I am truly inspired by our employees who personally commit to healthy options," said James Howgate, DPH chief of staff. "Holiday survivor participants set an example by demonstrating healthy behaviors which are part of our culture and are the foundation for creating and sustaining a great work environment and strong workforce."
As the manager of Georgia WIC and Senior Farmers' Market Nutrition Program, Doris Evans-Gates knows the nutritional importance of eating fruits and vegetables, lean meat and removing carbohydrates to maintain optimal health and to lose weight. For the second year in a row Evans-Gates finished as a winner in Holiday Survivor.
"It was important to eat healthy, reduce the amount of sugar, especially chocolate, in my diet," said Evans-Gates. "I lost 15.6 pounds and 5 inches around my waist by eating healthy foods, removing foods high in sugar, and walking 5 miles daily. There were days when I logged 17,000 steps in my Fitbit."  
Chris Harrison, deputy director of DPH's Office of Vital Records, was also among the 140 state employees who lost weight. Harrison analyzes vital statistics in his job and knows there are personal stories about people's lifestyles hidden in the numbers. After putting on weight over the summer and early fall, Holiday Survivor was a catalyst to lose 20.8 pounds and 3 inches with good nutrition and daily movement.
"I packed lunch at home more often rather than going to restaurants," said Harrison. "That made it easier to control calorie intake and include more fresh fruits and vegetables. I did intense exercise three times per week, and light or moderate exercise every day."
Evaluations of the Holiday Survivor Challenge done by the College of Public Health at the University of Georgia and Workplace Health Group show Evans-Gates and Harrison aren't the only success stories. 
"Based on last year's results, 82 percent of participants in the program lost weight,' said Heather Padilla, research director for the Workplace Health Group at UGA. "They did so by being more active and improving their eating habits during a time of year when we are all tempted to indulge in food and do anything other than exercise."
The next challenge for Evans-Gates and Harrison is the Transformation Challenge, a 12-week program that helps participants make a total body transformation by changing their body composition through exercise and eating healthy.
For more information about Worksite Wellness' programs and initiatives, send an email to DPH-WorksiteWellness@dph.ga.gov.