Ready, Set. BABY! Georgia's Coastal Health District is working to increase education around the benefits of breastfeeding. The district will become the first in the state to implement this educational program that focuses on counseling prenatal women about maternity care and the benefits and management of breastfeeding.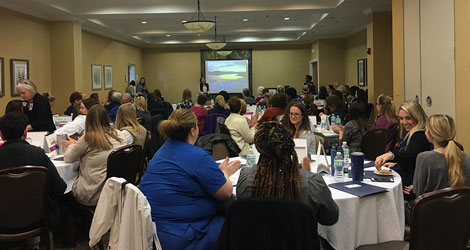 Recently, about 70 participants from public health districts and hospitals around Georgia gathered in Brunswick to find out more about Ready, Set, BABY. Those in attendance learned how to facilitate counseling on breastfeeding using Ready, Set, BABY and how to generate strategies to integrate Ready, Set, BABY breastfeeding counseling into current practice.
"Ready, Set, BABY is designed to put mothers-to-be at ease. It's really about having a relaxed conversation and finding out what mom knows about breastfeeding or what questions and fears she might have," said Monica Lightfoot, Coastal Health District breastfeeding coordinator. "By creating a friendly, open environment we can start the conversation about breastfeeding and how it can benefit both mother and baby."
Developed by the International Board Certified Lactation Consultants at CGBI and N.C. Women's Hospital, the "Ready, Set, BABY: A Guide for Welcoming Your New Family Member" booklet has been approved by the Georgia WIC Education Material Task Force for breastfeeding education. The breastfeeding workshop in Brunswick was led by Director of the Carolina Global Breastfeeding Institute, Catherine Sullivan, MPH, RD, LDN, IBCLC.
Attendees at the Brunswick event practiced role-playing during which participants played the roles of pregnant women and health educators.
"Presenting the evidence-based messaging from Ready, Set, BABY in a role playing scenario and then getting honest feedback on how the material was presented really helped all of us," said Lightfoot.
Ready, Set, BABY ties directly into the Baby-Friendly Hospital Initiative which encourages hospitals to promote breastfeeding and mother/baby bonding by adhering to the Ten Steps of Successful Breastfeeding.
"We are committed to helping mothers breastfeed their babies because breastfeeding is so important for good health," said Lightfoot. "Breast milk is easy to digest, helps build up baby's immunity, and goes a long way toward creating that all-important bond between mother and baby."