DeKalb County Board of Health employee Kassie Bennett has joined a prestigious group of Georgians. First Lady Sandra Deal recently presented Bennett with the Servant's Heart Award for her work with pregnant teens and women, and mothers of children younger than a year old in DeKalb County.
Bennett is a supervisor in DeKalb's M.O.R.E program - Mothers Offering Resources and Education. M.O.R.E. was created in 2005 in response to the staggering number of infant deaths in DeKalb County.
M.O.R.E. matches young mothers with trained resource moms who help before, during and after pregnancy - until the baby's first birthday. Resource moms themselves were once teen moms and know firsthand about the challenges and opportunities these women face. Bennett is one of the program's original resource moms.
"You have to first gain her trust. You have to be a good listener so you can get to the heart of her story," said Bennett. "She may come to M.O.R.E. requesting food for her baby but she may also need housing and clothing. She may show up with the baby's father but you may learn that she is involved in sex trafficking and needs additional services."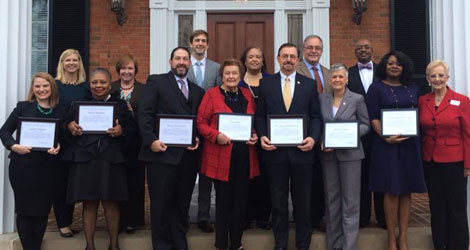 The Servant's Heart award acknowledges that a true servant's heart is innately kind and thoughtful; a person who notices simple needs and moves to help; one who is unbiased regarding those who need assistance and is motivated to assist without expectation of recognition or reward, and one whose heart reaches out to others. Bennett was chosen to receive the award because of her commitment to selfless action, and giving above and beyond the call of duty to serve others.
"We here at DeKalb County Board of Health are so very proud of Ms. Kassie and the work of the M.O.R.E. moms," said S. Elizabeth Ford, M.D., FAAP, health director, District 3-5. "We are grateful to Mrs. Deal for acknowledging Ms. Kassie's tireless efforts in supporting maternal and child health in DeKalb County."
M.O.R.E. is one of DeKalb's success stories. The program has helped over 5,000 mothers and babies since opening its doors. Many of the M.O.R.E alumnae have high school diplomas and college degrees and live as productive and positive role models.
Bennett is always thinking about the young mothers no matter where she goes. Sometimes it's a WIC clinic; over 50 percent of the referrals that come to M.O.R.E. are through WIC. Other times it's a school or home. With her spirit of love and care as a resource mom, M.O.R.E. is not just a job for Bennett, but a mission. She knows that the skills taught through the program - confidence, self-esteem, sustainability - have literally saved lives
"This award is very important to me because it recognizes the importance of the program, the mothers and babies who have needed our services, and all of our collective hard work," Bennett said.
You can get information about the M.O.R.E. program and set up a time to meet with a Resource Mom by calling 770-484-2607.