School bells will soon be ringing all over the Coastal Health district signifying the start of a new school year. Several health departments in the district held back-to-school clinics to help parents complete the required immunizations and health screenings. One of those clinics took place at the Chatham County Health Department where vision, hearing, dental, and nutrition screenings were provided at no cost.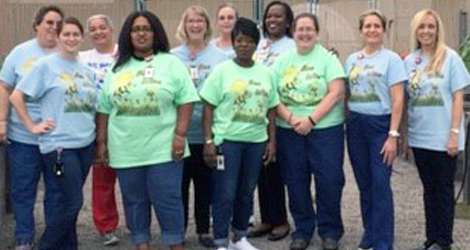 Students entering a Georgia school for the first time – no matter what the grade level – must have a completed certificate for vision, hearing, dental, and nutrition.
"The clinic is always a huge success and parents are so grateful to be able to get this service for free," said Randy McCall, administrator with the department. "If you only have one child, it may not be much of a burden, but if you have more than one, the cost can quickly add up."
While children are there for the free screening, it also gives clinical staff the opportunity to find out if all necessary immunizations are up-to-date.
"We check immunization records to make sure that new students have all of the immunizations they need before they start school," said Tammi Brown, nurse manager. "We want to make sure they are fully protected against all vaccine-preventable childhood diseases."
Chatham County Health Department staff screened 213 children in seven hours at the event. The back-to-school clinic is an annual affair and one that McCall plans to continue.
"It's a great community service, and at the same time, it allows us to talk to the parents about the importance of immunizations," he said.