Cobb and Douglas Public Health (CDPH) was recently honored with the Model Practice Award at the 2017 Annual Conference of the National Association of County and City Health Officials. The award celebrates local health departments for developing programs that demonstrate exemplary best practices in response to a critical, local, public health need.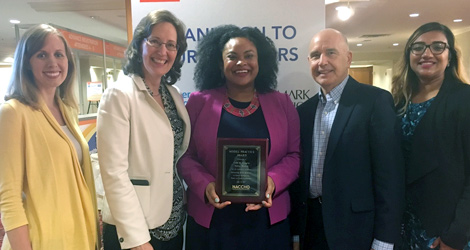 The "Decreasing Risky Behaviors in Youth through the Power in Truth Conference" was one of 41 local health department programs to receive the association's prestigious Model Practice Award. Viva Price, children & youth section manager accepted the award on behalf of the CDPH and numerous Douglas Power In Truth Conference partners.
"We are very pleased to receive NACCHO's Model Practice Award for Decreasing Risky Behaviors in Youth through the Power in Truth Conference," said Jack Kennedy, M.D., District Health Director at CDPH. "This award confirms our commitment to developing responsive and innovative public health programs and partnerships that improve the health and safety of our local residents."
CDPH also received two Promising Practice Awards:
"Enhancing Employee Engagement Through a Comprehensive Internal Communications Strategy," Valerie Crow, director of communications
 
"Creating a Resource Development Office to Diversify Public Health Funding," Jan Heidrich-Rice, district development director
Since 2000, Douglas County's Power in Truth conference has empowered more than 7,000 youth with techniques to help avoid drugs, tobacco and alcohol, overcome social influences, and increase healthy behaviors. The 2016 PIT conference expanded its focus to additional risk factors including internet safety, violence prevention, healthy relationships, obesity prevention, distracted driving, and financial literacy. 

Live Healthy Douglas in partnership with the Douglas County Board of Health, the Douglas County School System, the Douglas Health Futures Foundation, and over 30 local agencies and volunteers is preparing for its 17th  Annual Power In Truth Conference on Tuesday., Oct. 17, at First Baptist Church in Douglasville, Ga.