The FBI recognized the Georgia Public Health Laboratory (GPHL) on May 8 to showcase its good work and partnership with federal agencies.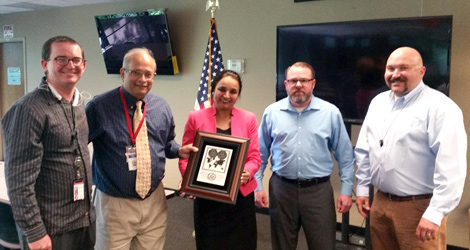 The Bureau of Diplomatic Security, Weapons of Mass Destruction Countermeasures Division presented a plaque to the lab for their contribution in processing suspicious samples received at overseas embassies during the closure of the CDC Biological Rapid Response and Advanced Technology laboratory.
"The suspicious samples were submitted to the lab where they were processed by highly skilled Emergency Preparedness laboratory staff using Laboratory Response Network procedures," said Suresh Pai, Ph.D., D.A.M., M(ASCP), director of Emergency Preparedness at the Georgia Public Health Laboratory.
Each member at the lab's emergency preparedness unit is cross-trained to respond to both biological and chemical threats.
"They work as a team to accomplish tasks with a 'can-do' attitude," said Pai.
Plaques were also presented to the FBI and Fourth Civil Support Team for their respective roles in providing a coordination and field screening for these samples.
"We are proud to be part of a robust emergency response network in Georgia," said Pai.