During a looming disaster, the safety of Georgia residents is the primary focus - no matter whether the disaster is a hurricane, ice storm, infectious disease outbreak or a terrorist attack.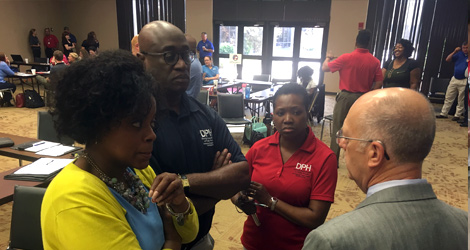 The Georgia Department of Public Health (DPH) and partner agencies, who coordinate disaster response and prepare for emergencies, work continuously to ensure Georgia residents are as safe as possible when such disasters strike.
One of those preparation efforts is the annual statewide Training and Exercise Plan Workshop, which was held July 27 at the Georgia Public Safety Training Center. Nearly 250 people with a role in emergency preparedness with DPH and partner agencies met for this year's workshop.
"It is important that we have existing partners," said Charles Braxton, exercise coordinator with the Emergency Preparedness and Response Section, "but it's going to be even more important that we identify new planning partners and there are new people at the table."
Kelly Nadeau, grant director for the Healthcare Preparedness Program, shares similar priorities.
"The real issue is more coordination," said Nadeau. "How do we streamline our trainings and exercises so we make the time we have the most efficient, and we get objectives met?"
Nadeau adds that planning ahead is a key approach to better prepare for unexpected disasters and to make Georgia citizens safer.
"We've certainly had a lot of real-world activation in the past year," said Nadeau. "We've had a lot of opportunities to really practice our plans, so I think we always get a better understanding of what we need to improve. Then we'll use that as a foundation for moving on with training and exercise."
Ed Westbrook, training officer for the Georgia Emergency Management Agency (GEMA) and Homeland Security, helps get Georgia disaster ready:
"The main thing is pulling all the disciplines together. "If we train together, if we exercise together, then we're going to work together. That's the main goal."