The Commissioner's Award was presented to the Georgia Department of Public Health (DPH) for the 2016-17 State Charitable Contributions Campaign for a state agency with 501 to 1,000 employees with contributions totaling $10,668.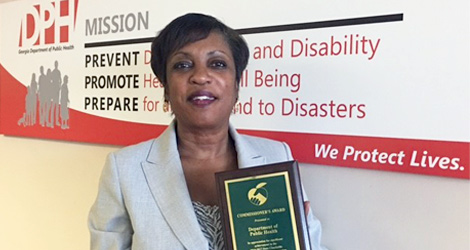 Betty Cox, human resources operations specialist and campaign coordinator together with 400 employees, are being recognized for DPH's significant contributions to raise funds for over 1,000 charities.
"It was an amazing experience," said Cox. "DPH really stepped up to the plate to serve Georgia citizens who need our help. Each of the employee pledges was about $250."
Cox's leadership is contagious and it motivated co-workers to make a difference through their annual giving.
"DPH was recognized for the first time due to Betty Cox for this year's campaign," said Dionne Denson, chief financial officer. "Betty along with countless employees' efforts will have a major impact on charities in Georgia."
As the Program Manager for the campaign, LaToya Wimbush knows that it takes teamwork to reach the annual goal of helping others. 
"I appreciate the work that Betty and her team performed, which contributed to the State of Georgia's overall success in raising $1,497,037," said Wimbush. "Coordinators are the backbone of the annual campaign to engage, motivate and share the mission within their individual agencies."
The State Charitable Contributions Program is a benefit for State of Georgia and University System employees to contribute to the charity of their choice through payroll deduction or a one-time donation. There are more than 130,000 employees who participate and over 1,000 charities available for designating pledges.