The Georgia Department of Public Health (DPH) will participate in the annual Kaiser Permanente Corporate Run/Walk with the State of Georgia team on Thursday, Sept. 7 at 7 p.m. The 5K or 3.1 mile race will begin at the Georgia World Congress Center in Downtown Atlanta and is the culmination of an 8-week training program, Get Active Atlanta.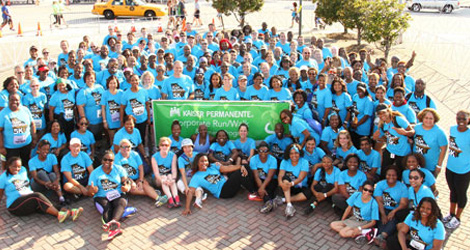 "This is a great 5K for first-timers to participate in without pressure," said Carmen Daniel, Worksite Wellness program manager. "Half of adults in the U.S. live with a chronic disease, such as heart disease, cancer or diabetes. Increasing physical activity levels will significantly reduce that risk. It also supports mental health and healthy aging."
2017 marks the 35th year of the race and the fifth year DPH will participate as State of Georgia team captain. Over 16,000 employees from over 400 companies are expected to run or walk. About 50 DPH employees have already registered for the race, potentially setting a new record. Last year, the agency took home the "Most Fit Company Cup Award" based on it's size (1,000 – 4,999 full time employees) and surveys completed about health and wellness programs.
Daniel's advice to novice runners and walkers is to wear shoes that fit properly, to know the route and to make an exercise plan that includes walking, jogging, stretching and strength training.
"I encourage participants to pace themselves as they would with anything that they introduce to their body that is new," said Daniel.  "Cross training will prevent injury and build your strength and stamina."
Early registration is $27 until Aug. 11 and then increases to $37. Fees include a healthy meal and commemorative t-shirt.  You can register at www.kpcorporaterunwalk.com/registration. Get Active Atlanta includes personalized training, run/walk training programs, boot camp and a two-week complimentary gym pass to prepare for the race. Participants can also utilize the Capitol Hill Fitness Center and ask the fitness experts questions at 404-232-1573. 
"The Kaiser Corporate 5K is ultimately a great time for all who participate," said Daniel.