Clay Tracy, Walker County Health Department environmental health manager, received food-safety certifications from the Food and Drug Administration at a recent county health board meeting. Tracy, who has worked for the health department for 12 years, manages the inspection of 115 Walker County restaurants and other food-service establishments.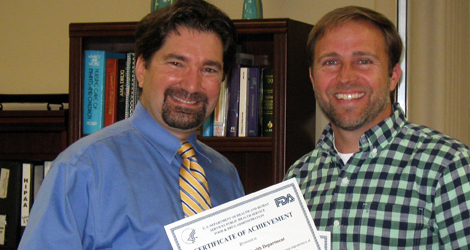 Tracy was recognized with certificates of achievement from the FDA's Voluntary National Retail Food Regulatory Program Standards. Certificates were awarded to Tracy for completion of Standards One, Three and Six. They apply to the regulatory foundation used by a retail program to govern the operation of a retail food establish, the utilization of  the Hazard Analysis Critical Control Point  principles to control risk factors in a retail food inspection program, and the compliance and enforcement activities used by a jurisdiction to achieve compliance within regulations. Walker County is just one of four jurisdictions in Georgia to earn certification for Standard Six.
"Georgia's Rules and Regulations for Food Service are among the most robust in the nation for food safety," said Northwest Health District Environmental Health Director Tim Allee, "but the FDA certifications Clay has earned give us additional tools to monitor and improve the quality of food safety, and prepare for and respond to foodborne-illness outbreaks."
Foodborne illness is a significant public health issue. One out of every six people nationwide experiencing a foodborne illness each year resulting in tens of millions of acute illnesses, hundreds of thousands of hospitalizations, and thousands of deaths each year in the U. S.
The Voluntary National Retail Food Regulatory Program Standards are designed to improve public health by strengthening state and local retail food regulatory program operations, linking foodborne-illness risk factor analyses data to industry outreach efforts, and reducing the occurrence of foodborne illness.