There's no doubt about it: Breastfeeding gives babies the absolute best nutritional start in life.   That is why women's breasts swell and become tender during pregnancy — they're preparing to deliver nature's perfect food for baby. In recognition of National Breastfeeding Month, the Fulton County Board of Health's Women, Infants and Children nutrition program (WIC) took part in the global "Big Latch On" and created novel ways to engage and reinforce the message to clients that breastfeeding is best.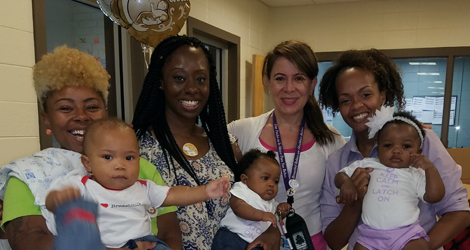 They involved new and pregnant mothers in trivia games to increase knowledge of the advantages of breastfeeding. According to WIC Breastfeeding Coordinator Christine Kassas, three WIC clients, themselves breastfeeding moms, joined the staff as peer counselors. In group sessions, they offer support and share details of their own breastfeeding journeys, helping to put other moms at ease about the practice.
Fulton County moms were also represented at Atlanta's Big Latch On held at the Grant Park Recreation Center on Aug. 4. After starting in New Zealand in 2005, the Big Latch On spread to 28 countries. The group's mission is to raise awareness that public breastfeeding is a necessity and best practice.
According to the National Institutes of Health, the American Academy of Pediatrics and the American College of OBGYNs, the connections between breastfeeding and better outcomes for children are immeasurable.
Breastfeeding helps babies …
ward off viruses, bacteria and gastrointestinal illnesses such as diarrhea.
lower risk of allergies, asthma, Type 1 diabetes and other common childhood diseases.
with emotional well-being and bonding with the mother.
develop a higher IQ.
lower risk of childhood obesity.
Breastfeeding helps mothers …
reduce their risk of postpartum depression.      
bond emotionally with their babies.
succeed with postpartum weight loss.
lower their chances of developing certain cancers, cardiovascular disease and rheumatoid arthritis.
The Fulton County WIC program is closing in on its goal of having 60 percent of its clients initiate breastfeeding when their children are born. Currently, the number is about 57 percent.   Of the 57 percent of mothers who start breastfeeding, 37 percent are still providing breast milk when their babies are six-months old. 
Fulton WIC Nutrition Manager Danica Carswell says with the addition of designated nursing rooms in most of the County's public buildings and more staff and participation in events like the Big Latch On, reaching and going beyond these goals is near.
Residents can get additional information about the services offered by the Fulton County Board of Health's WIC program by calling 404-612-3942, sending an email to christine.kassas@fultoncountyga.gov, or visiting www.fultoncountyga.gov/dhw-home.