The Richmond County Health Department, Richmond County Medical Society and the Richmond County Sheriff's Department have partnered as a taskforce to provide a drug drop box at the health department to dispose of old prescription drugs. The drug drop box is a pilot program aimed at moving dangerous narcotics off the street and into proper disposal.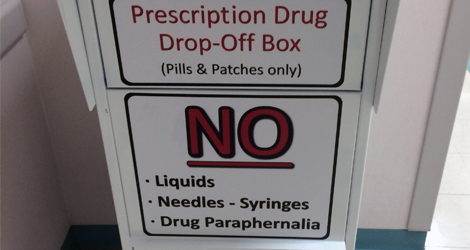 "It is our hope that this pilot program will be successful and expand to other counties in the East Central Health District," said Stephen Goggans, M.D., District 6 Health Director.
Alarmed by the opioid drug crisis in Georgia and the Augusta area, the county health department, medical society and sheriff's department have established a secure way of disposing of old and unused prescription drugs. Members of the taskforce unveiled the new prescription drug drop box at the Richmond County Health Department. The disposed drugs in the drop box will be picked up weekly and incinerated by the sheriff's office. 
"The opioid epidemic is finally getting the attention it deserves as a nationwide epidemic with devastating consequences," said Adair Blackwood, M.D., RCMS Drug Abuse and Addiction Task Force Chairman. "The number one risk factor for opioid addiction is exposure to opioids before the age of 18." 
The taskforce's efforts provide a safety net to remove and dispose of opioids to help prevent accidental overdose and deaths.
"We have come to recognize that this terrible disease has many manifestations and requires a multitude of measures from many sources in our community," said Craig Kerins, M.D., former RCMS president. "It was very significant for the health department to step forward and partner with us to install our first drug drop box in their facility." 
In Richmond County, the number of overdose deaths ranged from 19 to 34 per year from 2006 to 2014, before jumping to 46 per year in 2015, according to the Georgia Department of Public Health. In Georgia, the number of overdose deaths nearly doubled from 2006 to 2015, from 767 to 1,307.
For more information about the drug drop box, call 706-721-5800.