Governor Nathan Deal designated August 21-25 Flag Football Week in Georgia. In honor of that, the Atlanta Falcons Youth Foundation donated flag football equipment to 80 elementary schools and 79 middle schools (159 schools total) in counties throughout the state, reaching more than 30,000 boys and girls in Georgia schools. Through the new initiative, Rise Up! 159, the Falcons will provide NFL Flag Football kits for teachers to use in P.E. classes during the 2017-18 school year. The NFL Flag Football curriculum increases the time children spend in physical activity. The kits include 50 flag belts and Falcons NFL Flag reversible jerseys, footballs, water bottles, T-shirts and other supplies.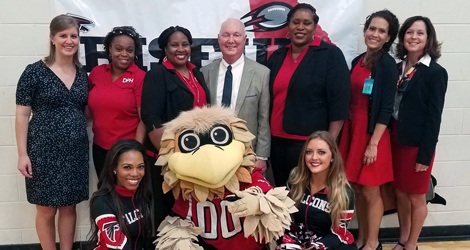 The Georgia Department of Public Health (DPH) has a very important role in Rise Up! 159 as part of Georgia Shape. The Falcons are partnering with Georgia Shape, the Governor's statewide initiative bringing together governmental, philanthropic, academic and business communities to address childhood obesity. Georgia Shape will manage a Rise Up! 159 mini grant program that will allow afterschool organizations to apply for funding to implement or expand NFL Flag Football programs.
"Rise Up! 159 is a game-changer," said J. Patrick O'Neal, M.D., Georgia Department of Public Health commissioner. "Increased physical activity results in fewer disciplinary incidents, teachers see more instructional time, and students are better prepared to learn."
The kick-off event was held at John Lewis Invictus Academy and brought together nearly 200 health and physical activity instructors from across Georgia to take part in a flag football training activity. Teachers were able to use some of the same equipment that would be provided to grantee schools through Rise Up! 159. 
Grants of up to $10,000 will be awarded on a competitive basis. The Falcons and Georgia Shape are especially interested in projects that start new NFL Flag Football leagues and projects that increase participation among girls and children with physical disabilities. NFL Flag Football is open to all boys and girls ages 6 to 14. Interested schools and after-school organizations should apply online at georgiashape.org.
Visit www.GeorgiaShape.org for more information on school-based physical activity and grant opportunities.