Hurricane Harvey made landfall in Texas on Aug. 25, as one of the most powerful hurricanes to hit the United States mainland since 2005, according the National Hurricane Center.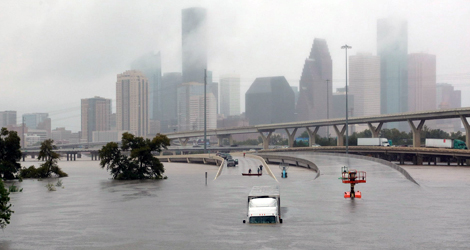 Two weeks after the Category 4 storm pummeled Texas, drenching the city with more than 50 inches of rain, destroying homes, downing power lines, and shutting off electricity to more than 280,000 residents, and uprooting 100-year-old trees, officials are planning for a long recovery to get thousands of residents back on their feet and back to a normal life. Patience is certainly needed for the days ahead.
Some Georgians are eager to help survivors of Hurricane Harvey and The Georgia Emergency Management and Homeland Security Agency (GEMA/HS) offers advice on the best way to help those affected by Hurricane Harvey.
"We encourage anyone who wants to donate or volunteer to visit the National Voluntary Organizations Active in Disasters (NVOAD) website to learn how to help," said Catherine Howden, chief of staff for GEMA/HS. "By visiting the NVOAD site, Georgians can keep abreast of what's needed, what to donate and how to sign up to volunteer."
Coordination among federal, state and regional agencies is an important aspect of the response in a disaster. Situations can change quickly and coordination with one another helps ensure people affected are getting the help they need, when they need it.
"Just as the situation is rapidly evolving, so are the needs of those impacted by this disaster," said Howden. "We've learned from previous catastrophic storms that coordination is important in meeting the community's needs in both the immediate aftermath and ongoing recovery.".
GEMA/HS is providing regular updates on the Georgia VOAD donation collection sites.  Currently, a site is set up in Lawrenceville in the East Metro Health District 3-4. Some of the priority items to donate include bottled water, Gatorade, and cleaning supplies. Donations may be dropped off at:
Lawrenceville Church of God – "Operation Compassion"
Monday – Friday from 8 a.m. to 7 p.m.
329 Grayson Hwy
Lawrenceville, GA 30046
Seeing the devastating impact of Hurricane Harvey and the potential of Hurricane Irma should serve as a reminder for families to think about reviewing their own emergency plans, or making one if they don't already have one in place.
"As we continue to maintain situational awareness of the Hurricane Harvey recovery missions in Texas and Louisiana and now the impending impact of Hurricane Irma in Florida, it calls to mind ways in which Georgians can prepare ahead as the storm gets closer to home," said Eric Jens, DPH risk communicator.
If you are looking for a way to help in your local Georgia community, joining one of the volunteer programs by registering in advance is one way to help others: https://dph.georgia.gov/georgia-responds.  Most of all, remember to make your own emergency response action plan to protect yourself, your family and your community. Tools to help you create a plan for your family, friends and community can be found at: http://ready.ga.gov/.
Please check the GEMA/HS Twitter page for information and updates on Hurricane Harvey's clean-up efforts.