Chatham County native and community advocate Sheryl Prather is thankful the local health department helped to evacuate her family from Savannah before the potential storm surge from Hurricane Irma.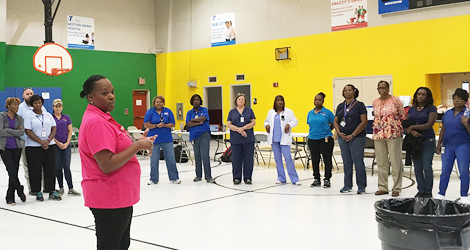 After a state of emergency and mandatory evacuation were issued for Chatham County, Prather searched for services to transport her 91 year-old grandfather, an insulin-dependent, double-leg amputee who required around-the-clock care, to an assisted living facility. Prather's 75 year old mother would not evacuate without her father. Prather drove to Community Care and was directed to the Chatham County Health Department. Business Support and Billing Analyst Janice Guglielmi registered Prather's grandfather for the Functional Access and Medical Needs Registry.    
"I had no idea what to expect," said Prather. "Janice simplified the process by entering his information within 24 hours ahead of the mandatory evacuation. She told me to 'hurry up and return with his list of medications' to complete the registration and assessment. I don't know what I would have done without the Registry."
All Coastal Health District health departments maintain the Registry which is made up of residents who may require transport and medical assistance during a hurricane evacuation and have no other resources such as family, friends, neighbors or church members to help them if they need to evacuate. All residents must apply to be on the Registry.
"We promote the Registry all year round – not just during hurricane season," said Sally Silbermann, public information officer and risk communicator for the Coastal Health District. "It's extremely important that residents apply before a storm. The vetting process for applicants is rather extensive and for good reason: We want to make sure that we have all the proper information to determine medical or functional needs to best assess and help each applicant. The more information we can gather in advance, the more prepared we are when the time comes to evacuate our Registry clients."
The storm surge from Hurricane Irma uprooted trees, downed powerlines and flooded streets in Chatham County and other Coastal Health District counties. The Registry provided great comfort to families who needed to evacuate but were unable to without the local public health service.
"It is rewarding to know of positive experiences," said Guglielmi. "You wonder what their story would have been had they not applied for help through the Registry. For us, it's all in a day's work. But, it shows the importance of what we do and the need to get the word out, to continue with the mission."   
When Prather got a call that her grandfather would be evacuated, she described the moment as an eleventh-hour miracle. Her grandfather was transported by ambulance to an assisted living facility in Jonesboro on Thursday, Sept. 7, along with his caregiver and her three children. Prather and her mother arrived two days later in nearby McDonough. The whole family was reunited in a safe place.   
"Thank God we evacuated to a safe place," said Prather. "I left Savannah at 2:45 a.m. on Sept. 9 and drove from I-16 to I-75 and had no traffic problems. After this experience, I must advocate for my community at large, and help with the outreach and awareness of the Registry. We know first-hand the importance of having an emergency evacuation plan, especially for elderly family members."
One of the many roles of the Coastal Health District during an emergency is to ensure residents' medical needs are met. The District works with multiple partners, including emergency management agencies, hospitals and EMS to carry out emergency preparedness and response efforts.
"This can involve the transport and placement of medical supplies and hundreds of people – which Irma required," said Lawton Davis, M.D., health director for the Coastal Health District. "The District and its partners take this responsibility very seriously by training for all potential scenarios. But every event is different and presents its own distinct challenges. Our standard protocol following any disaster response in coastal Georgia is to evaluate what went well, what could have gone better, and what processes need to be improved to ensure an even better response during the next event."
The emergency transports and shelter placements for Registry clients went well throughout the Coastal Health District. In fact, 115 functional-needs clients and 75 medical-needs clients (along with caregivers) from all over the District were transported to predetermined inland shelters or facilities.  
"County health departments and community partners are now working together to ensure that if and when there is a next time, things will go even better," said Silbermann.
If you live in Bryan, Camden, Chatham, Effingham, Glynn Liberty, Long, or McIntosh counties, call your local health department to find out if you qualify for the Registry.