In District 3-1, the Cobb and Douglas Public Health (CDPH) deployed county employees to assist in relief efforts in Georgia in support of the public health mission to prepare for and respond to Hurricane Irma.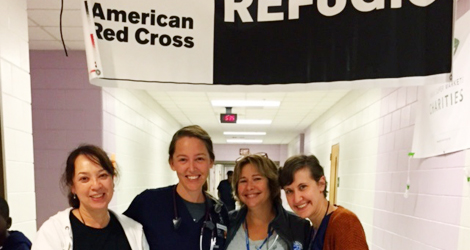 Strategic National Stockpile Planner Quinton Prince reported to the Emergency Operations Center (EOC) at the Georgia Department of Public Health (DPH). From Friday, Sept. 8 to Sunday, Sept. 10, Prince worked to manage the resource request process. This function of emergency response allowed affected districts to request the items needed for their own response after their capabilities had been exhausted.
The requests, ranging from nurses to generators, made it possible for public health to deploy resources and public health professionals to areas where they would have the greatest impact. Prince managed requests from the EOC and from the Web EOC's virtual platform, which was used when weather conditions made it unsafe to report to the EOC. Prince oversaw receiving requests and assigning them to a duty area such as nursing, logistics, epidemiology, environmental health and finance.
Nurses were also deployed to Augusta to assist with relief efforts. Wanda Nuckles and Gail Wade traveled to the Richland Academy, while Rose Bishop and Kristy Clodfelter assisted at Pine Hill Middle School, where over 230 evacuees, including young children and elderly adults were sheltering.
Working together with the American Red Cross at these shelters, CDPH nurses made sure evacuees had supplies, received necessary medications, treated infections and ensured diseases did not spread. Staff members assessed the needs of the evacuees every two hours and distributed items like clothing, toiletries, diapers and snacks as needed. They also served meals three times a day.
Although it was during an emergency, CDPH nurses were grateful to assist their communities.
"We helped make people more comfortable in an uncomfortable situation," said Clodfelter.