Georgia Department of Public Health (DPH) Commissioner J. Patrick O'Neal, M.D., received the State of Excellence Award from the Association of State and Territorial Health Officials (ASTHO) at the 2017 Policy Summit, Gala and Annual Meeting. The occasion served to celebrate ASTHO's 75th anniversary and state and territorial public health leaders.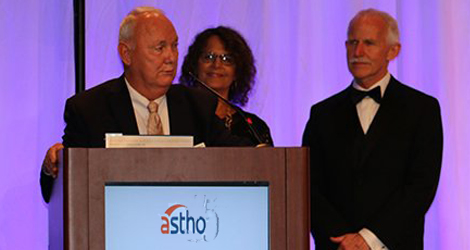 Commissioner O'Neal is recognized for his extensive medical and military experience in the public health community, greatly enriching ASTHO's mission and the health of all Georgians.
ASTHO Executive Director Michael Fraser presented awards to 10 public health leaders and medical professionals who bring transformative leadership to the field of public health. Fraser commended those selected for embodying a genuine desire to improve health in the U.S. and for making a difference in the lives of others by leading with compassion, integrity and perseverance, inspiring others in public health.
"I am enormously grateful for, and equally humbled by, this recognition from ASHTO," said O'Neal. "This award bears my name, but I accept it on behalf of every member of the DPH team. Together – that's the only way it can happen – we are working every day, in countless ways, to protect the lives of Georgians."
Prior to appointment by Governor Nathan Deal to serve as commissioner of DPH, Dr. O'Neal served as the director of the DPH's Health Protection Division, overseeing more than a dozen public health programs including Epidemiology, Infectious Disease and Immunization, Emergency Preparedness and the Georgia Public Health Lab. O'Neal was also the medical director for the Office of EMS and Trauma. Commissioner O'Neal practiced emergency medicine for 29 years at DeKalb Medical Center and was the regional medical director for EMS throughout the Metro Atlanta area. He served in the United States Air Force for training in-flight medicine and as a flight surgeon in Vietnam.
The 2017 ASTHO awardees are:
Georges Benjamin, M.D., executive director of the American Public Health Association 
Ed Thompson 2017 Lifetime Achievement Medal
Michael Botticelli, executive director of the Grayken Center for Addiction Medicine at Boston Medical Center 
ASTHO 2017 Presidential Meritorious Service Award

Vivek Murthy, M.D., 19th Surgeon General of the United States
ASTHO 2017 Presidential Meritorious Service Award 

Tom Frieden, M.D., former director of CDC 
National Excellence Award

Paul Jarris, M.D., chief medical officer for the March of Dimes 
ASTHO Alumni 2017 Award

Rep. Tom Cole, chair, House Labor, HHS and Education Appropriations Subcommittee 
2017 ASTHO Legislative Champion Award 

Rep. Rosa DeLauro, ranking member, House Labor, HHS, and Education Appropriations Subcommittee 
2017 ASTHO Legislative Champion Award 

Edward Ehlinger, M.D., commissioner of health for the Minnesota Department of Health
Arthur T. McCormack 2017 Award

Keith Yamamoto, M.P.A., deputy director of the Hawaii Department of Health 
Noble J. Swearingen 2017 Award