For the third consecutive year, the Georgia Department of Public Health (DPH) has won the Most Fit Company Cup Award at the annual Kaiser Permanente Corporate Run/Walk. The award is based on company size (1,000 to 4,999 employees) and surveys completed about health and wellness programs. Kaiser Permanente presented the award to DPH for the State of Georgia at the event in Downtown Atlanta. Church's Chicken, Randstad and Southern Company are also 2017 recipients of Most Fit Companies for less than 100 employees and more than 5,000 employees.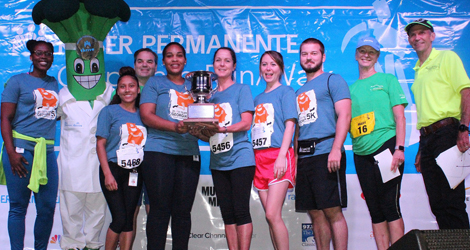 The Kaiser Permanente 5K race averages about 16,000 attendees and over 400 companies. State of Georgia employees, family and friends represented about 250 participants, and DPH set a new record with 89 participants.
"The Kaiser Corporate 5K supports physical activity, teamwork and community," said Lee Rudd, chief workforce management officer for DPH. "That supports our mission of a healthy, happy and productive workforce. Events such as this not only make DPH an employer of choice but one of Atlanta's top places to work."
Employee health is a core value at DPH, and Worksite Wellness is leading the charge for culture transformation.  
"DPH's Worksite Wellness program is nationally accredited and it includes programs and services designed to reach all employees wherever they are in their wellness journey," said Christine Greene, deputy chief of staff. "We always strive to take fitness to the next level by using continuous quality improvement and our evaluation partner, the University of Georgia Workplace Health Group. Our latest improvement is the 'Bring Your Baby to Work Program,' which is just concluding the pilot phase. Next on the horizon is making improvements in programming for the 50+ segment of our workforce."  
Efforts in continuous quality improvement through the "Plan, Check, Do, Act," cycle, customer satisfaction surveys and evaluation measures create a sustainable program model and contribute to the science of worksite wellness and public health, according to Carmen Daniel, coordinator of Worksite Wellness.
Annual wellness surveys provide key health indicators of employees' body mass index, hours of sleep, frequency of physical activity, daily servings of fruits and vegetables and daily water consumption. The surveys also evaluate fast food meals, snacks and consumption of sugar-sweetened beverages. DPH's survey findings were evaluated by Kaiser Permanente during their selection process of the Most Fit Companies.
For a complete list of winners, event photos and corporate awards, visit Kaiser Permanente's webpage for results.  To become a member of the Capitol Hill Fitness Center or to join the next Worksite Wellness event, send an email to DPH-WorksiteWellness@dph.ga.gov.