The greatest success of Georgia Public Health District 3-4 during the Hurricane Irma response was the creation and deployment of a "Shelter Support Task Force" to the Columbus Civic Center.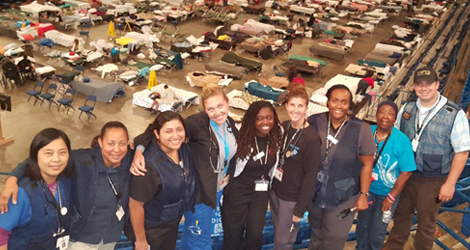 "I saw a lot and heard a lot, but most of all, I felt a lot," said Latoya Porter, public health nurse. "It's amazing what our team was able to do when we put job titles aside and worked together to help over 650 people in a make-shift clinic within the shelter." 
All task force team members agreed this was a life-changing experience. 
The team was developed after the deployment of nurses during last year's Hurricane Matthew response. The task force consists of four public health nurses, two clinical Medical Reserve Corps nurses, two environmental health specialists and one epidemiologist. During Hurricane Irma, they worked three full days and part of a fourth in Columbus and were instrumental in helping serve the wide variety of medical needs in the shelter. They also handled many logistical issues and surveillance needs. The varied skill sets of the task force were critical to the success of the response and will be built upon for future operations and evacuations.
Every hurricane can teach public health emergency response professionals how to improve processes. With Hurricane Irma, we learned lessons on which health professionals were most needed and we expanded our list of needed partners.  Most of all, we were reminded how important public health is before, during and after the storm in saving lives.  
Other district response activities included securing all vaccines at locations with backup generators,  providing medications to patients with tuberculosis, assisting healthcare partners with resources such as cots and generators, and spearheading a plan for our three county EMAs to work together to provide resources to a single, large, local shelter (if needed) for the Atlanta Metro area.