The North Health District, schools, government offices, health departments and businesses closed to prepare for Hurricane Irma. On Monday, Sept. 11, the hurricane's tropical-storm-force winds hit North Georgia toppling trees, damaging structures and power outages across the region. One death was reported.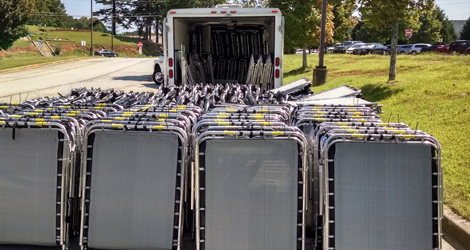 Hurricane Irma brought gusty and furious winds and snapped powerlines and electricity. By Tues., Sept. 12, many residents were using generators as a result of power outages. Neighbors began inspecting their homes for damage and checking on each other.
Emergency Management Agency (EMA) directors across the North Health District reported county emergency operation centers and 911 centers were operating on backup power. Several  health departments lost power for a few hours, and some for a few days.
One county EMA director and health department staff member coordinated the care for several residents on oxygen concentrators. Due to power outages in their homes, these individuals needed assistance with getting power to run their concentrators. The EMA director found a place to house these residents and health department nurses scheduled shifts to provide care. 
The North Health District staff  managed several emergency tasks and incidents:
Donna Sue Campbell, Katie Jenkins, Brandin Gillman and Mark Palen participated in daily conference calls with the Georgia Department of Public Health. The District Operations Center (DOC) was partially-activated Wednesday, Sept. 6 and fully-activated Monday, Sept. 11, in anticipation of the severe weather arriving on Monday afternoon. District Emergency Assessment and Response Team (DHEART) staff members from nursing, epidemiology and communications attended. Emergency preparedness staff worked in the DOC as well as off-site during Hurricane Irma.
Prior to a tree falling and blocking entrance to the storage area for the cots, staff members positioned a cot trailer at the District Office for accessibility. Communities were in need of the cots to set up shelters.  The cots were marked and counted, as well as inspected to make sure that they were in working order.
A large oak tree fell onto the rear of the Stephens County Health Department building knocking down electrical and telephone lines. Due to the loss of power, the health department moved all their vaccines to the local hospital pharmacy for safe storage. Power was restored to the building on Sat., Sept. 16, and the health department opened at 8 a.m. on Mon., Sept. 18. However, phones and internet were still out, and staff worked around these issues to serve clients. These services were finally restored by evening. Stephens County was the last health department to open after the storm.
Banks, Habersham and White county health departments also lost power for several days and had to move vaccines to a safe location for proper storage. By the end of the week, all three health departments were opened. Most remaining health departments lost power briefly or for several hours and had issues with phones and internet. Nine of the thirteen health departments were open on Wednesday morning, Sept. 13.