Tobacco use is the single most preventable cause of disease, disability and death in Georgia. Approximately 1.5 million Georgians ages 18 and over currently smoke cigarettes. An estimated 11,500 individuals die every year from tobacco-related illnesses. More than 50 percent of all tobacco users in Georgia would like to quit using tobacco. But many of them need help dealing with the addiction.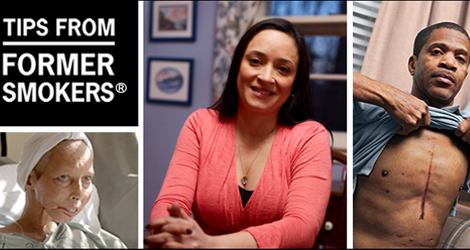 As part of the Georgia Department of Public Health (DPH), the Georgia Tobacco Quit Line (GTQL) is an instrumental part of helping Georgia tobacco users make a quit attempt, and reduce overall tobacco use.
In March 2012, the Centers for Disease Control and Prevention (CDC), Office of Smoking and Health National Tobacco Education Campaign, launched the first-ever paid national tobacco education campaign - Tips From Former Smokers ® The Tips® campaign profiles real people who are living with serious long-term health effects from smoking and secondhand smoke exposure. The Georgia Tobacco Use Prevention Program (GTUPP) uses Tips® to encourage tobacco users to call the quit line for counseling on quitting tobacco use.
As part of the campaign, the CDC launched a Tips® video to pilot test ads tagged with 1-800-QUIT-NOW in 11 randomly-selected, media markets around the U.S. In Georgia, the Macon market was selected to be part of this pilot test.
GTUPP reports that during the 2017 Tips® campaign, there were 753 calls to the Georgia Tobacco Quit Line from the Macon-Bibb Health District residents. Prior to the campaign, there were less than half that many calls, and the majority of callers during the campaign reported hearing about the quit line through TV or radio. The result was a 151 percent increase in call volume from that district.
Any Georgia resident, whether a tobacco-user or not, can call 800-QUIT NOW or the Georgia Tobacco Quit Line at 877-270-STOP, for information or counselling on tobacco use and cessation. All tobacco users ages 13 and over can obtain cessation counselling, and those ages 18 and over can receive Nicotine Replacement Therapy (NRT) when available. If you are a tobacco user, ask your healthcare provider for a referral to the quit line. Encourage family members and friends who use tobacco to talk to their healthcare provider for help quitting.